At Sanako, we try to make things simple. So we've produced this blog post to categorise and summarise our main product range, so you can easily find and buy the product that's right for you and your school or university. We hope that you find it helpful – but do let us know (info@sanako.com) if there's anything further we can help you with.
What is Sanako?
The first thing to point out is that Sanako is the corporate brand name, under which all of the following products are developed. Sanako has been in business since 1961 and our products are now used in 114 countries and over 50,000 classrooms worldwide. Yet no one has ever purchased a 'Sanako'! Our products have a separate product name.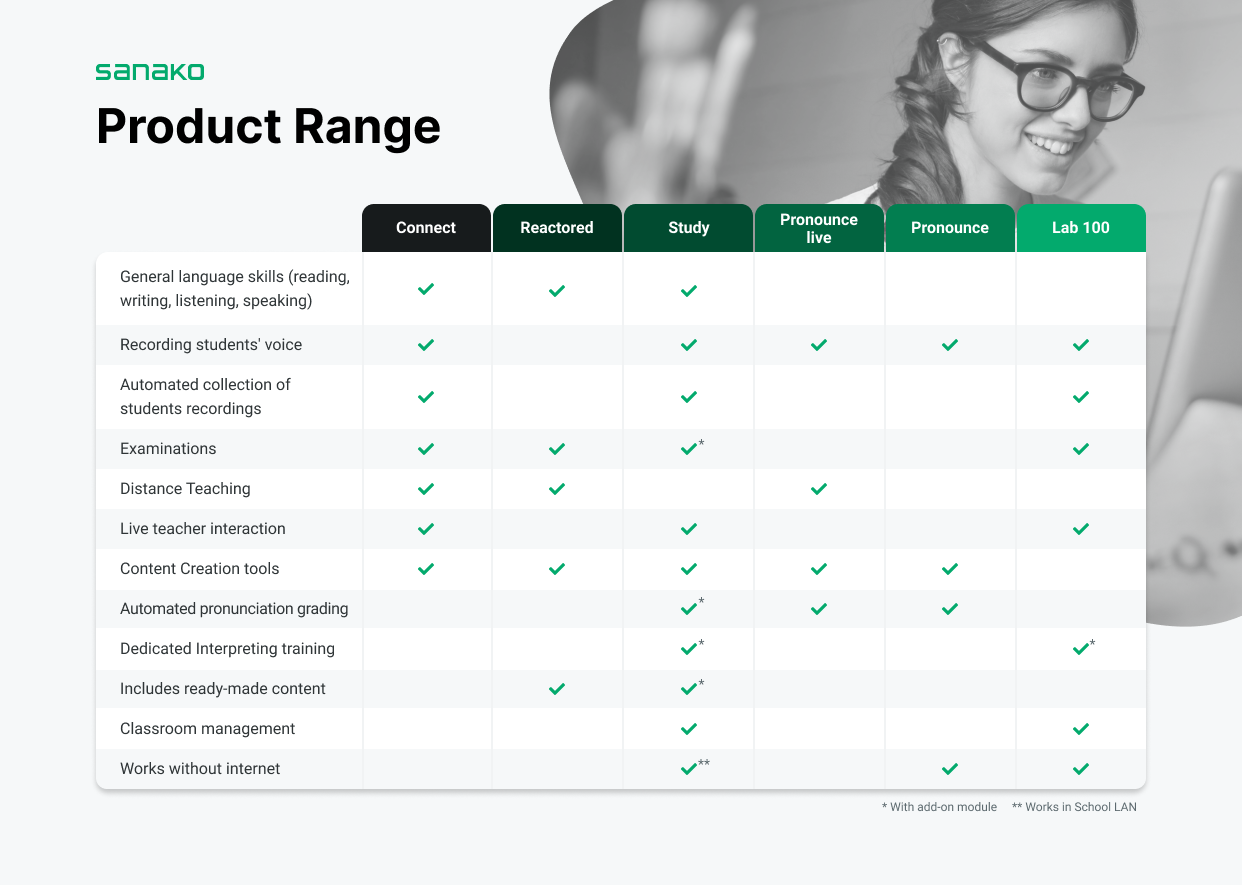 Our products currently fall into two main categories – Browser-based solutions and classroom-based Windows software solutions. Another distinctive factor is if the product can be used for synchronous (real-time) or asynchronous teaching (self-paced) or both! The following infographic and summaries outline the key features of these two top-level categories and highlight the individual products within them.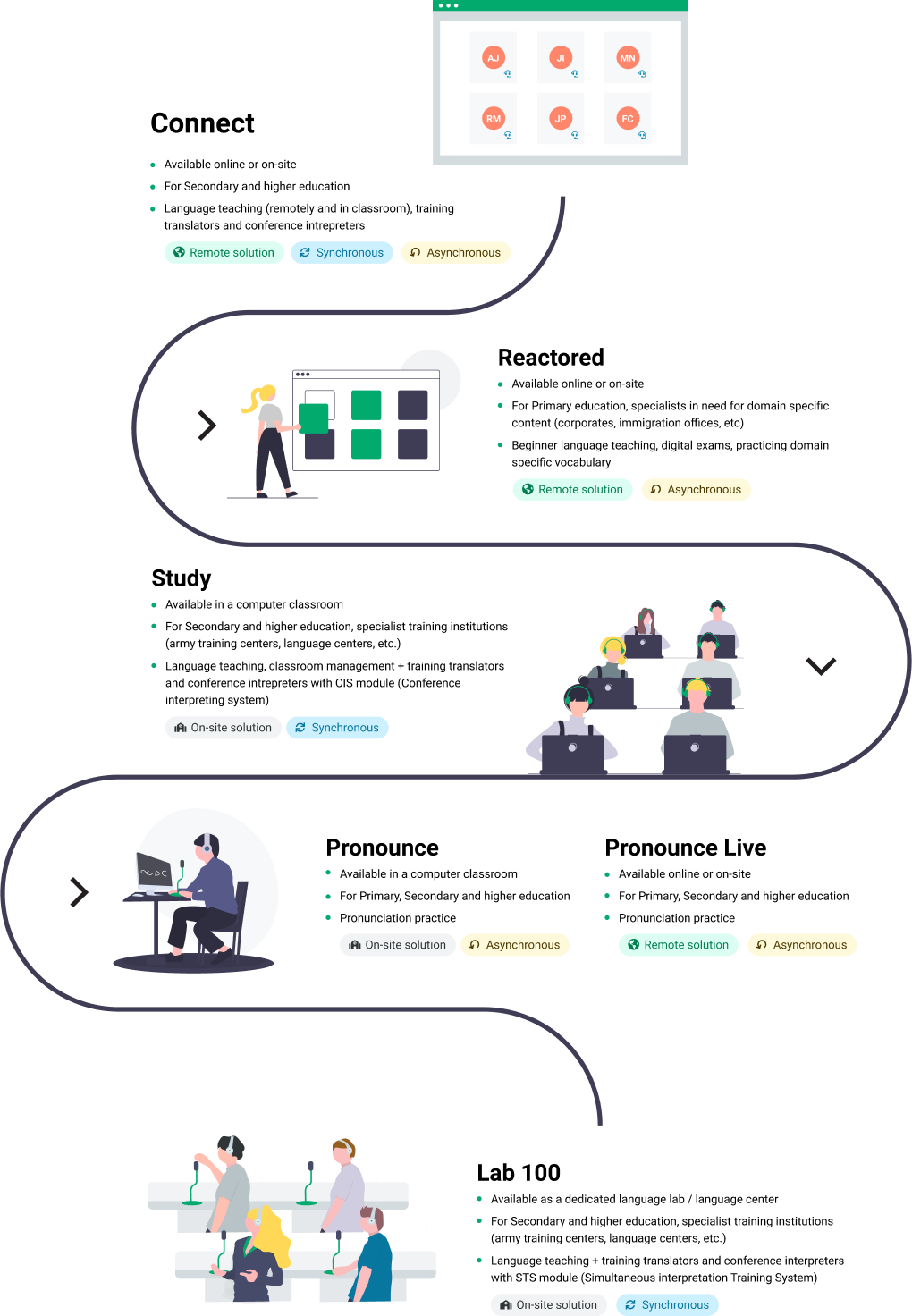 Browser-based language teaching solutions
Moving learning and teaching online (in part or completely) has been one of the most significant impacts of the Covid-19 pandemic. Educators and institutions are using online learning and teaching solutions to underpin their planned or emergency remote/hybrid teaching programmes. Users are able to access educational resources from multiple, independent devices, wherever they have an internet connection.
Sanako has a range of solutions ready to support educators/students to deliver remote and hybrid teaching programmes. Remember that all of our Browser-based solutions also work in the classroom and they are not limited just to distance teaching.
A browser-based system for complete language teaching and learning with a sharp focus on communicative language teaching. Sanako Connect facilitates language acquisition wherever and whenever teaching is delivered.
It incorporates all the benefits of a language laboratory yet is accessible from anywhere using computers, laptops, Chromebooks, tablets and smartphones.
Educators are able to create exercises, collect, review and give feedback on students' audio recordings and can give live instructions via audio, video and screen-sharing – all this in one unified platform.
Connect can be used to practice reading, writing, listening, pronunciation & speaking skills as well as for specific professional training for translators and interpreters.
Sanako Connect is a great fit for professional language teachers in middle schools, high schools, colleges, universities and similar institutions.
This is a browser-based solution that is used for one thing only: "improving students' speaking and pronunciation skills". It is currently used by over 2.5 million learners worldwide.
Students can listen to authentic speech models, record their own voice for comparison and receive immediate feedback.
Educators can quickly transform any text material into spoken audio for pronunciation and speech exercises.
A multi-language learning content platform with over 4.500+ ready-made digital activities to learn English, Spanish, French, German, Chinese, Vietnamese and Swedish. Reactored is Sanako's browser-based content platform, and it is a great tool for beginner-level language learners in schools/K12. Reactored's content library grows constantly and we add new pre-built materials and courses (and new languages) constantly. Reactored also provides an exceptional, personalised and engaging learning experience for students.
Students can choose the way they want to learn the selected lesson and the gamified and personalized approach keeps students motivated. At the same time, students will receive instant and automated feedback while working on exercises, correcting themselves right away in the learning process.
Reactored incorporates automation in various aspects to save time for teachers: from material creation and grading to administering exams.
Teachers can access ready-made lesson material (currently over 4.500 pre-built digital activities for A1 and B1 CERF levels) or can easily create and share their own.
Classroom-based language teaching systems (Windows software solutions)
For the majority of education institutions, language teaching is usually delivered face-to-face with their students in a classroom or in a dedicated language learning environment such as a language lab. For language learners, this has traditionally offered the simplest way to build competency in key skills such as speaking and listening via paired conversation practice.
Sanako has a range of desktop Windows software solutions ready to support educators in their face-to-face or classroom-based teaching practice.
This is a desktop-based, classroom version of Pronounce Live, as outlined above. It enables teachers to collect, evaluate and monitor their students' pronunciation practice in a classroom environment.
Our market-leading classroom software provides busy language teachers with all the tools they need for today's language classrooms. Study's activity-based learning method stimulates students to learn languages by doing. As a result, teachers are able to manage classes more effectively and can significantly improve students' results by up to 30%.
Sanako offers Study in three versions, which have been tailored to meet the needs of different education institutions.
Study 1200 – Advanced classroom language lab software for efficient language teaching.
Study 700 – Classroom management software with basic language lab functionalities.
Study 500 – Classroom management software for using class time for what it's meant for: teaching and learning.
Sanako Study is modular, which means that users can easily add any additional functionality that they might need. One of the most popular additions is tailored for training conference interpreting, which integrates seamlessly into the Sanako 1200 solution. This module simulates real-life conferences / meetings with students simultaneously interpreting live discussion into different languages. Students can also be assigned roles as interpreters, delegates and observers.
Placing an order or request a quotation
When you've worked out which Sanako solution is right for you, the best person to contact is your local Sanako reseller. The easiest way to find them is to visit the dedicated resellers page on our website. Simply choose your country and a list of Sanako approved resellers will be displayed. Select the reseller who operates in your country, region or state and use the contact information provided to reach out to them directly. Your local reseller will then work with you to get your order confirmed. They can also help you with all your training and installation needs in your native language!
Contact your local reseller today to see how Sanako's range of language teaching software solutions could transform language teaching in your institution. Search for your local reseller here or contact us directly by clicking the button below.