Every great language lesson needs content! So getting access to high-quality learning content that engages and inspires language students is a core requirement for every successful language teacher. Yet developing new material for every lesson can take a great deal of time – and time is always in short supply for teachers!
But technology can help reduce this burden as well as offering teachers the opportunity to express their creativity. This post explores how you can combine Sanako Connect (our virtual classroom software for language teachers) and our multi-language learning content platform (Reactored) to get access to learning materials you can immediately pick up and use.
Over 4.500 pre-built digital activities available for teaching/learning English, Spanish, French, German, Chinese, Vietnamese, and Swedish
Reactored is Sanako's web-based multi-language learning material and course platform that can be used for in-classroom teaching as well as in distance teaching or assigning homework for students. All materials in Reactored can also be turned to digital exams with few clicks. Our autograding function also saves teachers' time in grading students' work and progress.
Reactored's carefully created practice materials and courses cover all four skills (reading, writing, listening, speaking), for different languages but also for different language difficulty levels and a wide variety of topics – all in one place and usable with all devices, facilitating teaching and learning in and out of the classroom.
Currently the platform induces over 4.500 unique digital activities for different languages based on A1 and B1 CERF proficiency levels. We also add new pre-built content on a weekly basis.
Reactored is sold as an add-on content-module for other Sanako products like Sanako Connect. Purchasing Reactored gives access automatically to all available learning materials inside the platform.
Reactored's content library gives access to pre-built language leaning materials and courses.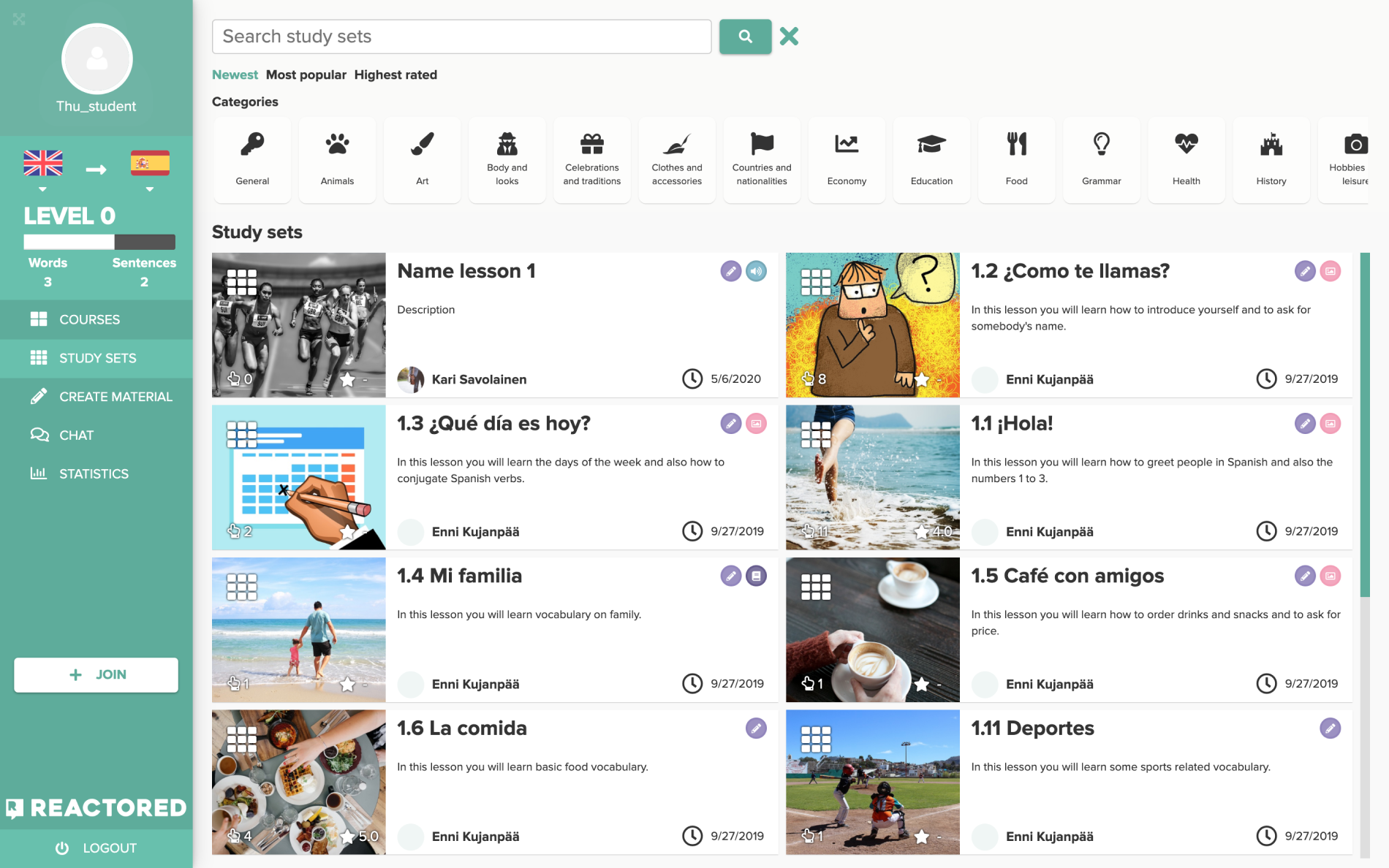 Reactored's content has been developed by a team of professional language teachers and it currently covers over 150 different topic areas. These have been deliberately chosen based on their relevance for everyday language use and include for example animals, food, health, travel, and nature. Materials focusing on key grammatical concepts have also been produced.
Importantly, these ready-made resources cater for the full range of student ability, including complete beginners and are provided in a variety of media formats (e.g videos, PDFs, sound files etc).
You can also create your own lesson content
Once a teacher has set up an online lesson in Sanako Connect and invited students to join it, their focus can immediately switch to getting the learning resources ready. A key part of any lesson will be the teacher's instructions (or associated lesson plan) that outline key learning objectives. Connect allows educators to attach these as documents or they can be easily recorded and attached as sound files.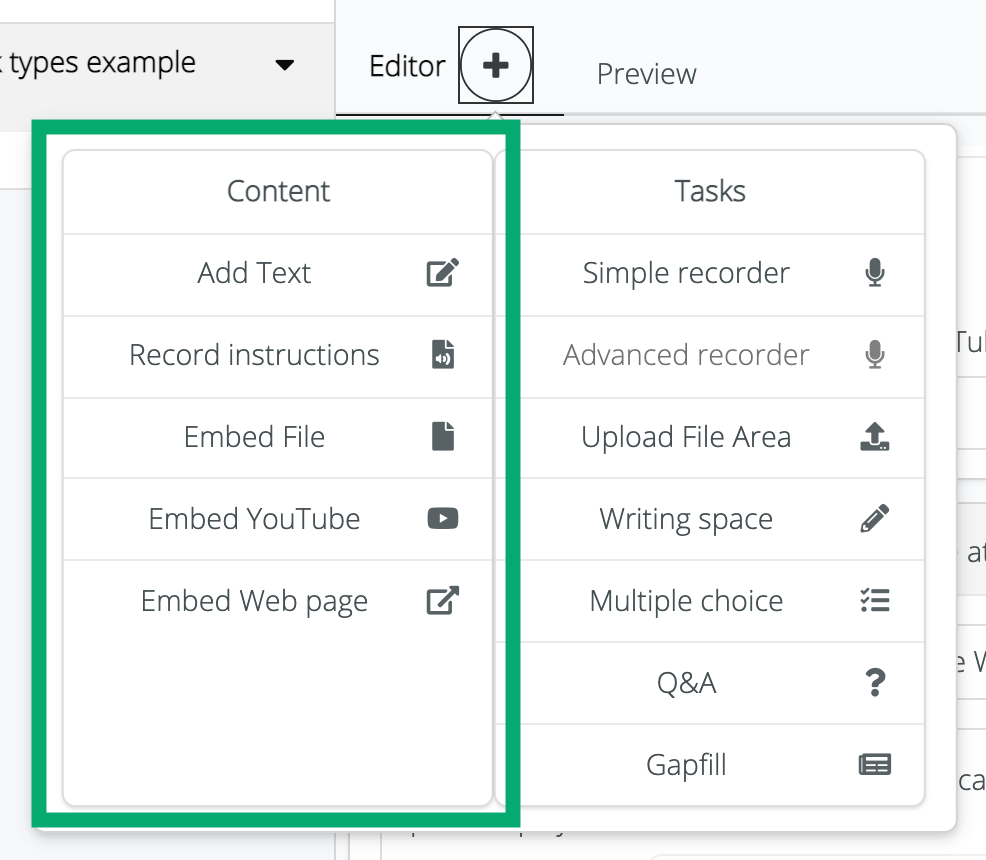 Educators can also easily upload a wide variety of learning material onto Connect for students to use during each lesson. Connect gives educators plenty of space to attach PDFs, presentations, videos, web pages or sound files as required. As everything is stored in the cloud, students can access these resources, where and when they need.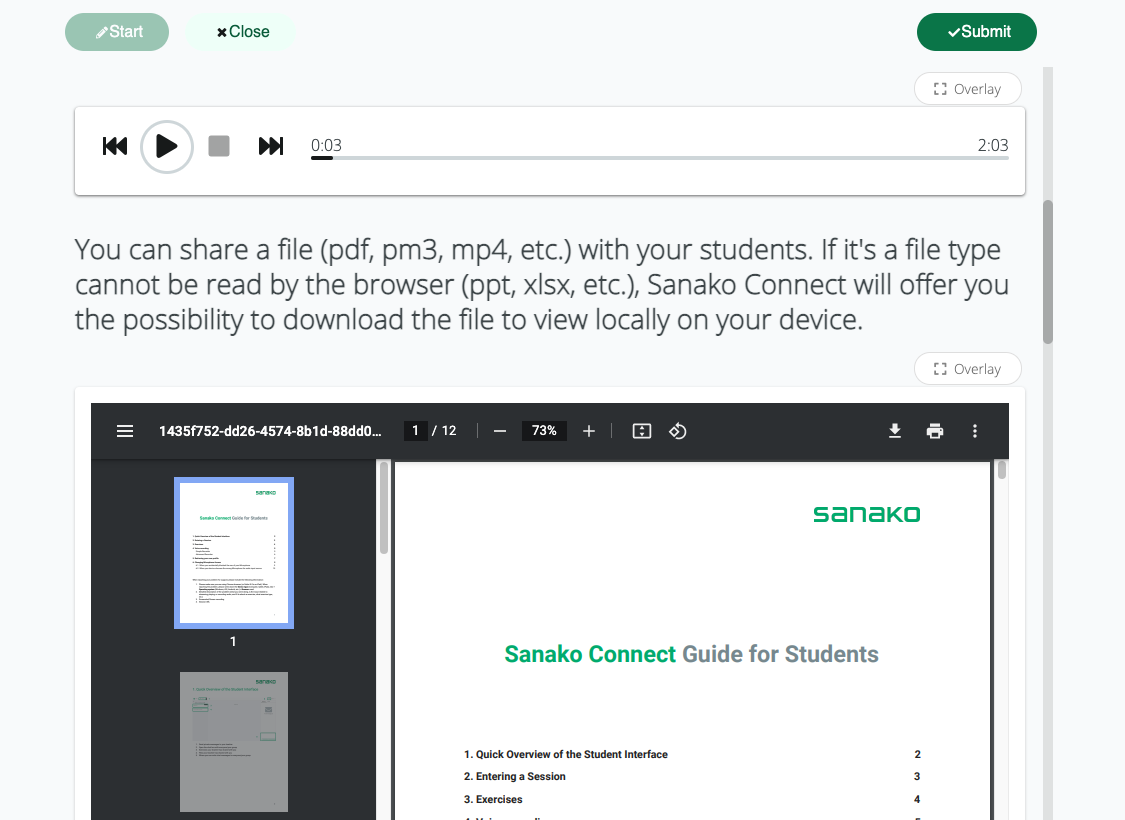 These learning materials can be attached as general background or information documents or can be linked to specific parts of the lesson plan. An embedded YouTube video or a sound file (prepared by the teacher or sourced separately) could simply, for example, be attached to a specific listening comprehension exercise.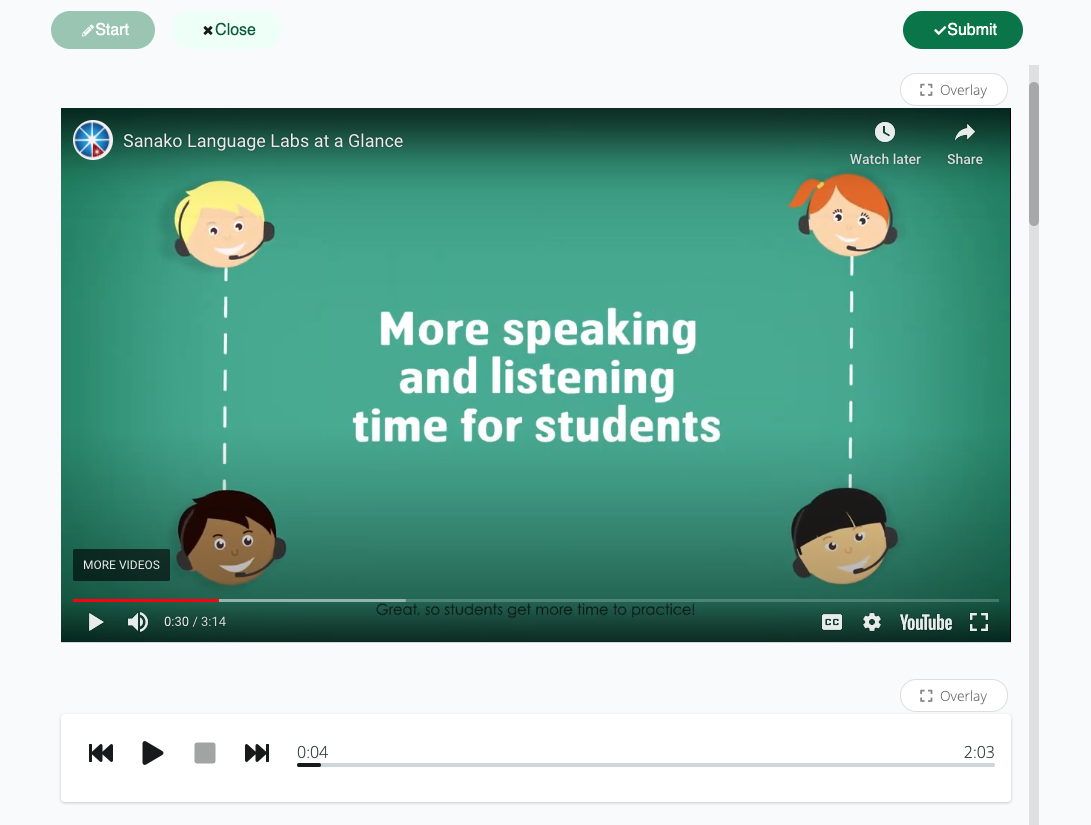 Rather than requiring students to provide their answers to an exercise on a separate document, Connect also gives educators easily-adaptable templates to gather all of the answers online. These templates apply across common language teaching activities including multiple choice quizzes, simple Q&A text entry forms or gap-fill exercises. They can be readily deployed to test students' core skills, particularly listening, reading and writing.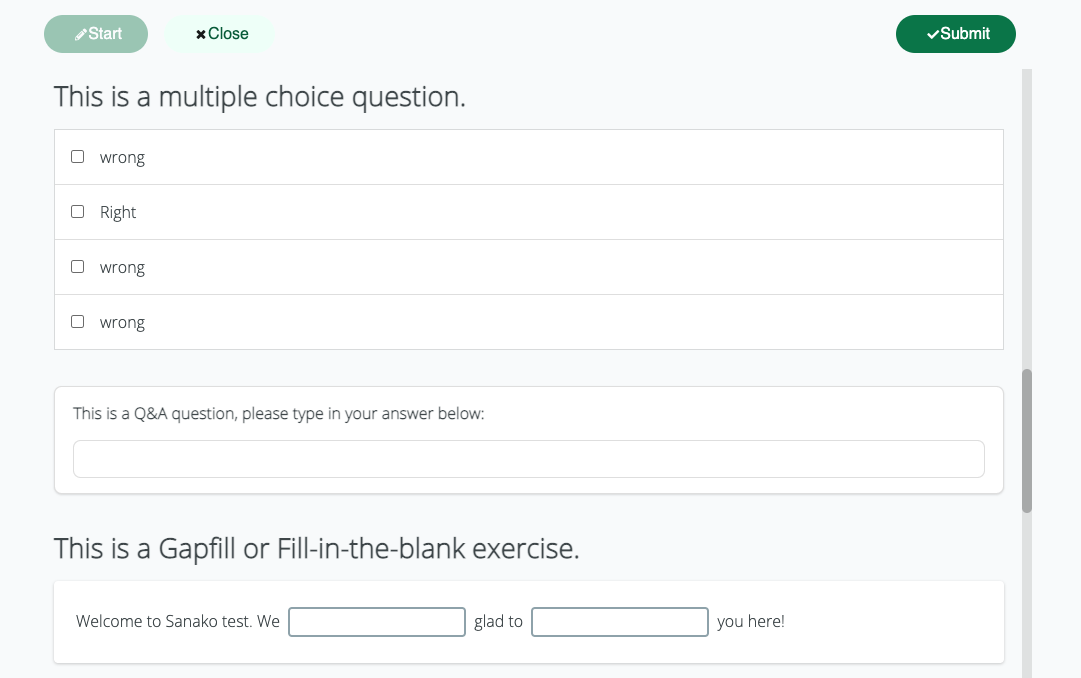 Sanako Connect also enables educators to quickly set up a variety of speaking tasks for students. They can either be tasked to record themselves reading aloud or responding to a pre-prepared piece of content. Alternatively, educators can create an original soundtrack, which the student then attempts to emulate using Sanako Connect's advanced, two-track recording functionality.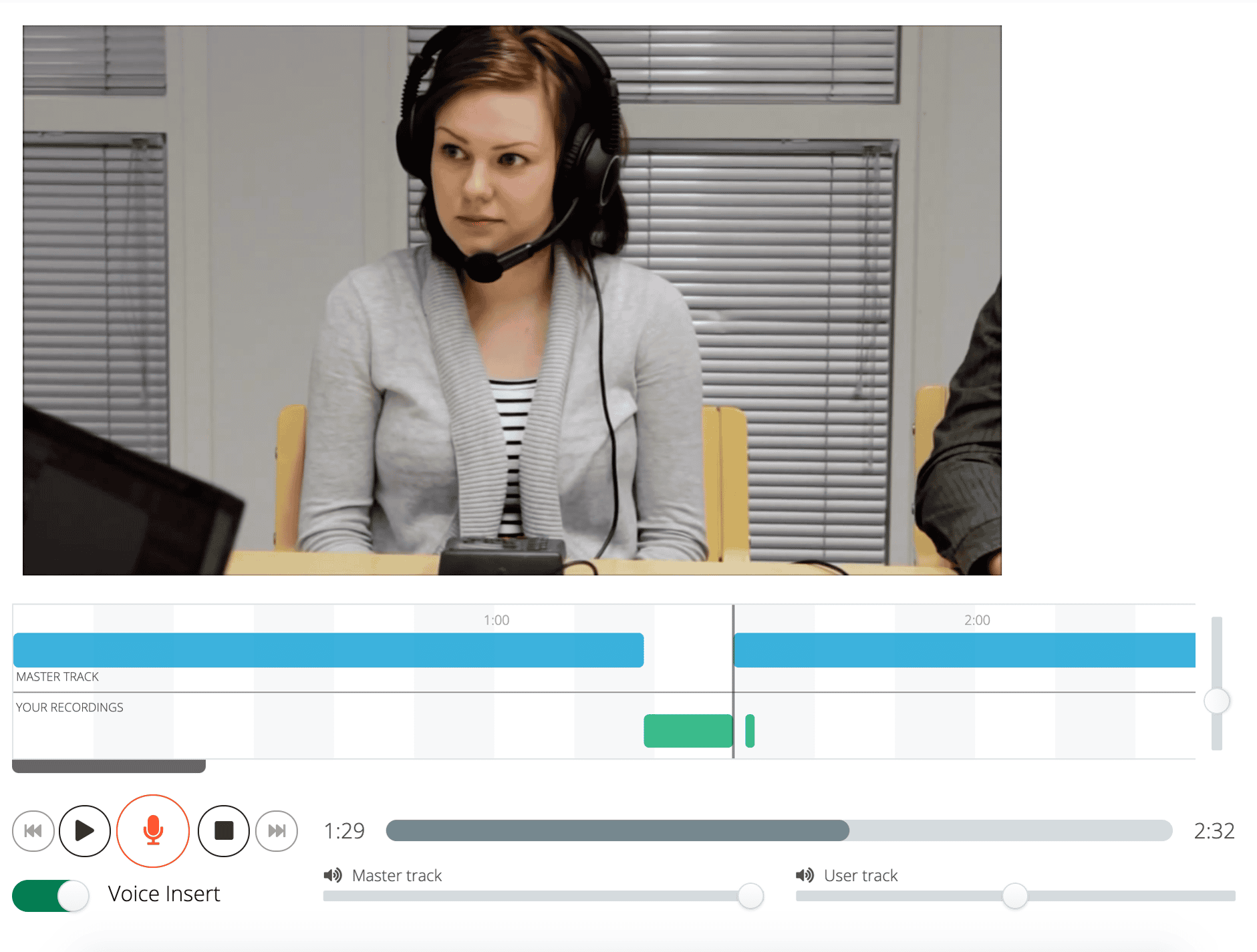 Reactored offers much of the above content creation functionality to educators. They can use the software to attach a wide range of stimulus material for students and can easily create varied language learning activities including quizzes, translation and listening exercises.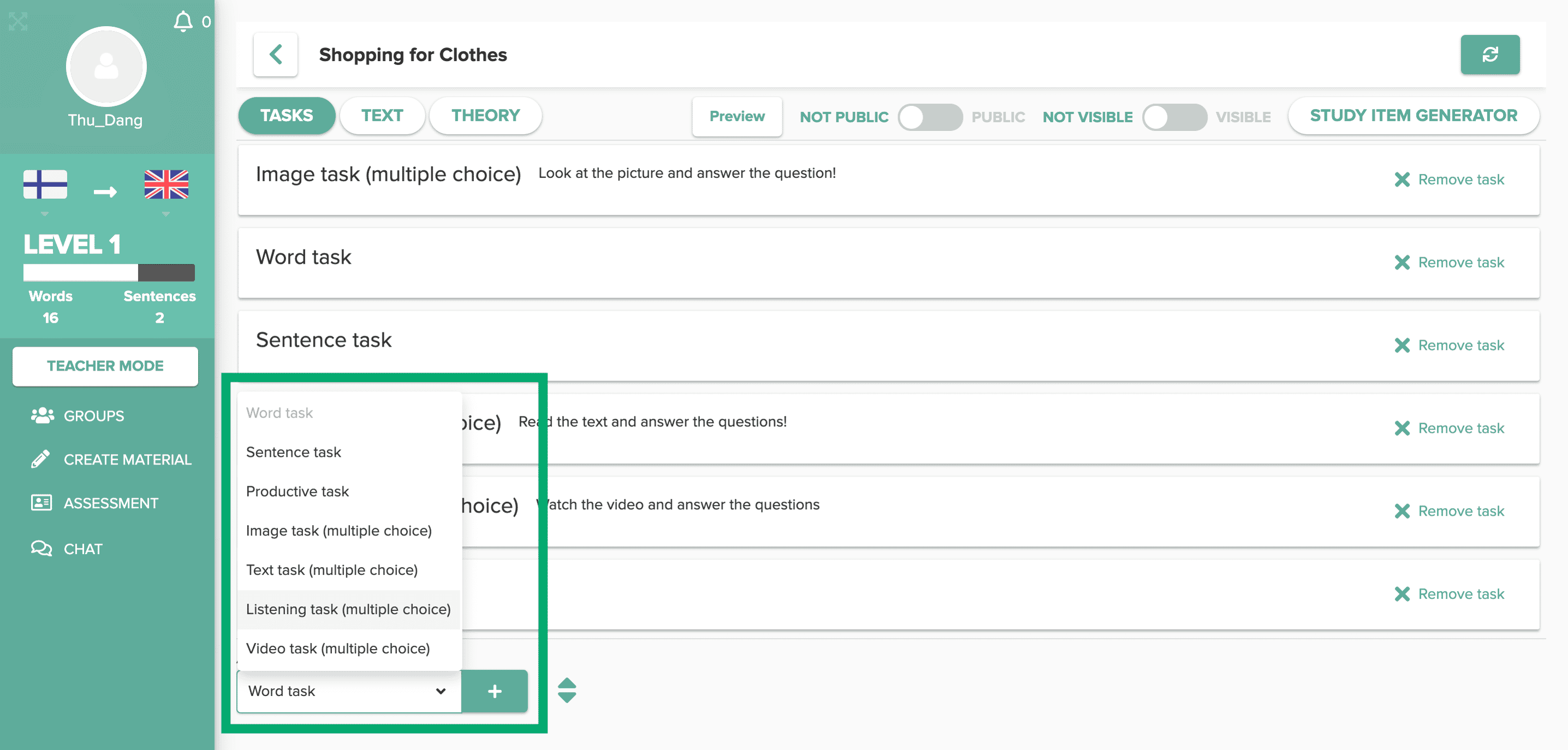 Save time by reusing and sharing the content you create!
One of the key benefits of both Sanako Connect and Reactored is that all of the content educators create can be easily saved in the cloud for future use and sharing with colleagues. Educators are therefore able to save and organise all of their lesson content online.
As such, these resources can then be easily reused and repurposed for other age groups or for different classes. The lesson content can also be easily downloaded from the systems at any time and stored according to the policies of each individual institution.
If you would like to learn more about Sanako's language teaching solutions and our pre-built language learning content, please contact us NOW to arrange an online demo!
Book free demo