Here at Sanako, we're always delighted to hear and learn from innovative language teachers around the world. So we were delighted when Maria Ángeles Gómez Trueba, an English teacher working in Spain, got in touch with us about a technique she has developed for teaching grammar using Cuisenaire rods to young English learners. This blog post not only summarises how Cuisenaire rods can be used to teach grammar but also looks at her wider teaching philosophy and highlights how the pandemic has impacted her overall teaching practice.
Maria teaches at the Colegio Mercedes in Santander. Originally founded and run by nuns, this is a thriving school with over 800 students from 1 to 16 years of age. It is now publicly funded and the 50+ teachers provide compulsory core curriculum studies to their students. The school is one of four schools belonging to the Fundació Escola Mercedària (FEM) – the others are located in Aragón and Catalonia.
English is compulsory for all students at Maria's school and she has taught students across all age groups. Currently, she is teaching English to students in 5th and 6th grade, who are 10-11 years of age. The school has also held bilingual status in Spain and has a record of teaching both science and music lessons in English. 
Maria's approach for engaging her students in their English studies is clear: "The main thing at the beginning is to make them happy at school and to make them feel comfortable." "It's so important," she continues," for them to have fun when they're learning." Students in her classes receive four hours of English teaching per week – Maria stresses that her lessons are "very oral and very physical."
Moving from in-person lessons to remote and hybrid teaching
Over the last year, it's been more difficult to maintain those standards as lessons have been delivered remotely via online learning. In fact, at the time of writing this article, Maria still has three students studying at home, who haven't been in school at all this year for medical reasons. It's been "really difficult" she admits, preparing two sets of resources for every lesson – one set for students in the classroom and another for those students learning remotely. 
As Maria acknowledges: "you can't ask them (students learning remotely) to do the same as those in the classroom." So most of their teaching is delivered asynchronously, apart from one hybrid lesson a week where Maria brings the classroom and remote students together. This lesson usually covers a key grammatical concept to ensure that everyone understands it, but it's also really important for all students "to reconnect and see their mates."
Maria acknowledges that all students now need "teaching materials which are attractive, inspiring and motivating." For example, they particularly enjoyed the lesson she developed on giving directions, where students worked with maps of popular big cities. First, they had to navigate their way around the city using directions she had prepared. Students were then challenged to provide directions to help their pairs to find key locations or facilities.
Using Cuisenaire rods as a grammar teaching tool
It's this drive to innovate and to develop engaging language learning resources that led Maria to adapt Cuisenaire rods as a tool for teaching key grammar concepts to her students. Traditionally deployed as learning aids in mathematics, Cuisenaire rods provide an interactive, hands-on way to learn key maths concepts. But, as Maria discovered, they also motivate young language learners as they help her "approach key grammatical concepts in a more playful way."
Inspired by one of her own teachers at the University of East Anglia, Maria decided to use the rods "because grammar can sometimes be boring and I don't always get the feeling that they (the students) understand what I'm telling them." She noted that the rods support all different preferred learning styles of students in her classes "because of the playful element and the cognitive stimulus that it represents."
She begins by assigning a category of words and a value to each rod: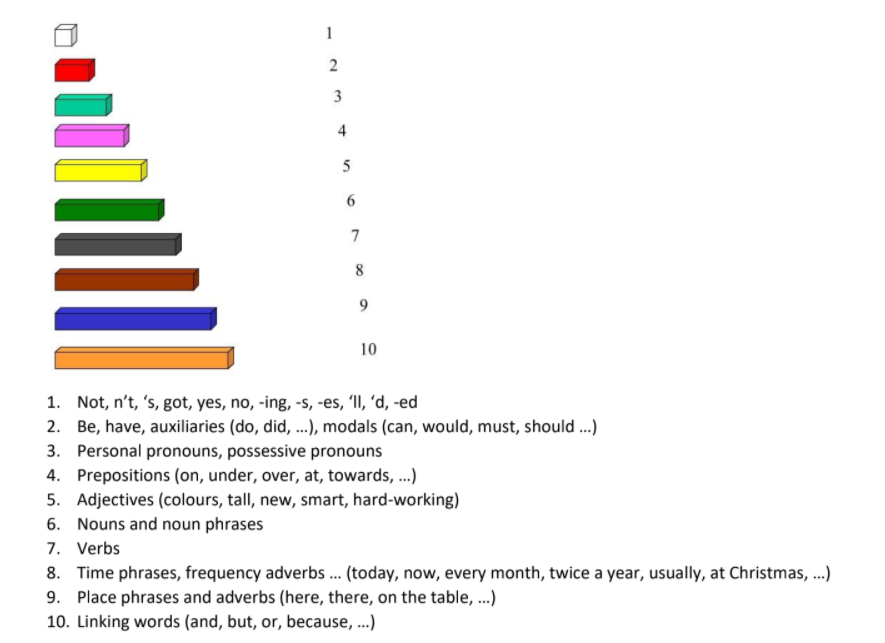 Maria then develops example sentences for her students using magnetic rods on a magnetic whiteboard. Students then copy her examples using the same colour code, noting down new vocabulary using the same classification.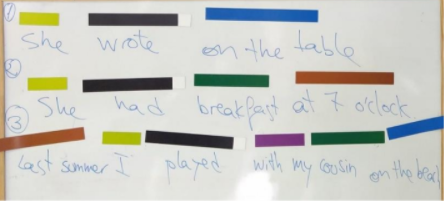 The same classification code and the same technique are then used to build word walls in the class, which can then be easily used when students are completing tasks.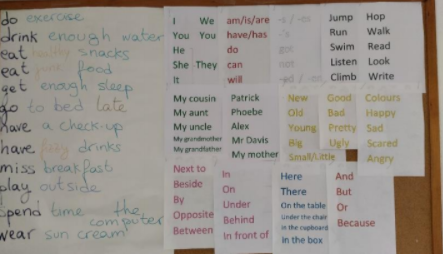 Such tasks might, for example, require students to write or speak a sentence that they have constructed, based on an order of rods Maria has prepared. Alternatively, students can order the rods for their classmates to then say or write a sentence. Maris has also used the rods to build listening skills – she reads out a sentence, which students then have to reproduce using the rods on the board.
See the video below for an example of the approach in practice:
Maria is obviously delighted at the impact her use of the Cuisenaire rods has had. She reports that: "The children now really enjoy our grammar lessons!" Her students "love the colourful rods and the opportunity to play and manipulate them to guess the perfect combination of words and colours."
Her innovation has been invaluable during online lessons. During a recent lesson on possessive pronouns with a group of 9-year old students, she created a PowerPoint using the same colour code. Her students were so familiar with the approach that they quickly picked up this new grammar point and successfully completed the lesson.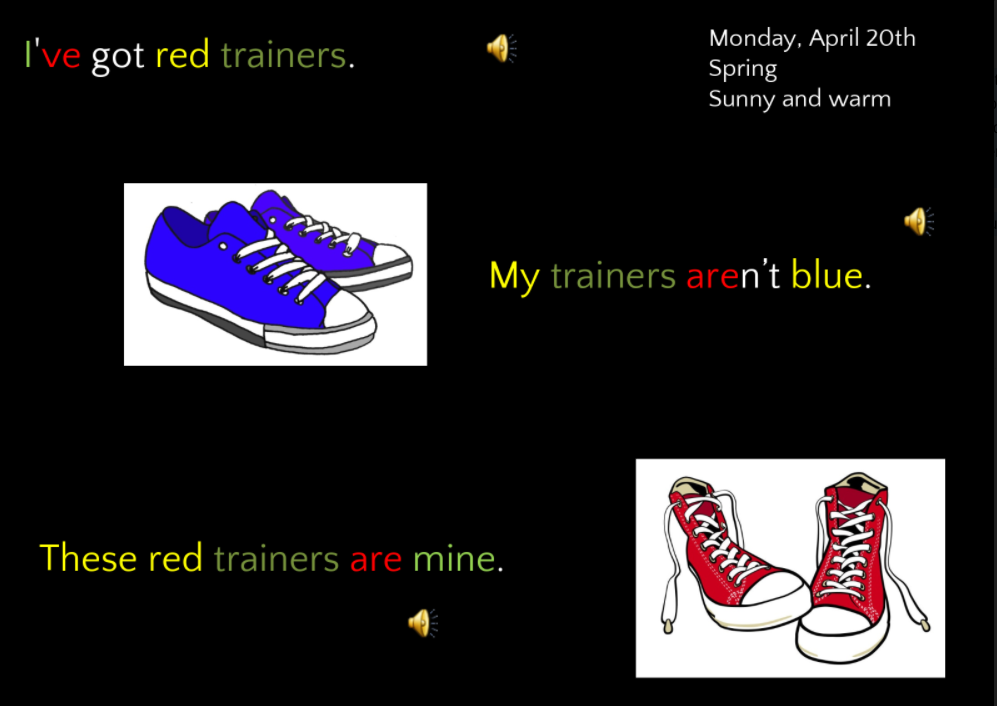 If you have a unique approach to language teaching, then we would love to hear from you! Your idea might even feature on this blog to be shared with peers and fellow language educators worldwide. Simply email info@sanako.com with an outline of your big idea!