One of the biggest influences on the language learning sector in recent years has undoubtedly been the dramatic rise of language learning apps. Apps and products designed for self-learners such as Babbel, Busuu, Memrise, Pimsleur, Rosetta Stone and Duolingo (amongst others) have grown rapidly as millions of people across the world have used them to begin their individual language learning journeys.
Of course, it's great news that more and more people are interested in learning new languages and broadening their horizons. But given their global and financial scale it is important to ask if these mobile apps actually work and how effective they are in developing real-world language skills. This blog post explores the arguments for and against.
Benefits of language learning apps
Most language educators would recognise that there is some value in using a language learning app. Learning a new language requires regular, repeated practice and apps offer a convenient and affordable way for learners to do this. All of the major apps simply require a download from the app store to your mobile device and learning can then begin without payment, but with selected in-app adverts or promotional messages. Lessons are simple, short, engaging and fun and the gamified functionality keeps users coming back. The best language learning apps also allow the user to learn most of the modern languages including English (American and UK), Spanish, German, Italian, Japanese, Chinese, Russian, and Turkish among others.
As such, the apps are built for convenience and are designed to be used whenever learners have a few spare minutes – on their commute or in a lunch break, for example. These short bursts of regular activity can help build exposure to the target language and help build core vocabulary and listening / reading comprehension skills. They can therefore be helpful in giving learners a taste of what learning their new language will be like before spending lots of money on a course that they don't enjoy.
Furthermore, language apps can certainly be useful in giving students a head start for those languages that have a different writing system such as Arabic or Chinese. Telc point out that Duolingo, for example, uses "a combination of flash card and simple matching exercises to train (learners) to recognize symbols in a new writing system, while Babbel goes an extra step further with in-lesson explanations for how new symbols or sounds work."
From reviewing teachers' feedback online, language apps can play a positive role in reducing learning loss over the holidays or between school years. The regular engagement with the language can keep students "ticking over" whilst they are away from the formal language classroom. Students are also able, teachers report, to conveniently learn new words and key phrases to use when travelling (e.g "My name is …" and "A single ticket to …).
Language educators also remark that students who use language learning apps frequently come into the classroom with additional questions about words and phrases that they've encountered on their app but which haven't yet been covered in class. Moreover, some learners appreciate the fact that their communication errors are known only to the app and to themselves. This can help address the anxiety which sometimes affects some students when learning a new foreign language.
Of course, the efficacy of language apps has been the topic of a great deal of interest from academic research. A 2020 study published by Duolingo claimed that learners in their Spanish and French language courses performed as well on reading and listening tests as students who took four semesters of university classes — and in about half the time!
Indications of the impact of learning apps on student performance from independent sources are few and far between. A recent study by Loewen, Isbell and Sporn (2020) from the University of Michigan is an exception and involved 83 undergraduates studying Spanish for 10 minutes a day over 12 weeks using Babbel. Loewen's survey found that almost everyone improved their grammar and vocabulary whereas almost 60 percent of participants improved their oral proficiency using Babbel. Unsurprisingly, those who used the app for longer periods of time improved their vocabulary and grammar skills even further. However, more than a third (36%) of participants did not complete the study, which would seem to highlight the importance of genuine human engagement with the course, peers and educators.
Challenges of language learning apps
Perhaps most significantly, the biggest argument against the use of language apps relates to what students actually learn when using them. As outlined above, it is clear that students can build core vocabulary and can learn key phrases through an app. However many learners who use such apps struggle to sustain a conversation beyond the stock phrases they have memorised. So, the big question is if language apps work in developing students communication skills? After all, the objective in "learning" another language is ultimately to be able to speak it and use it effectively in real life situations. This can only really be achieved through practising spontaneous speaking skills and using the language with native speakers / peers and by reading / listening to real native content.
As Loewen 2020 concludes:
"If you teach people explicitly to memorize vocabulary and grammar rules, most people will learn that. But it's much harder to take that knowledge and translate it into the ability to use language — to speak it, understand what you're hearing, and respond in an appropriate way."
It is also worth noting that much of the core language learning content on these apps is actually hidden behind paid subscriptions. Although the initial access to content is free, intermediate and expert users become quickly frustrated as more and more of the content they need / want requires a payment to get to. Learning in the free modules which are full of advertising and commercial messages isn't ideal for students' focus either and can diminish their learning experience.
The impact of language learning apps can also depend on the level of students using them. In a 2019 New York Times article: "500 Days of Duolingo: What You Can (and Can't) Learn From a Language App", the author concludes that language learning apps can be highly advantageous for beginners and could (with hard work) get most learners to CEFR Level B1 / B2 (i.e the independent learner stage and the level to which Duolingo aims to get learners to). However he acknowledges that to progress from intermediate to proficient CEFR Level C1 / C2 requires a very different approach – the improvements in performance are smaller, more incremental and full of nuance. For all of the apps' artificial intelligence, the advanced student's ability to "communicate flexibly in social, professional, and academic settings" can only occur through interaction with humans and ideally native language speakers.
Returning to the University of Michigan study, such human interaction clearly plays a key role in maintaining learner motivation. This is further evidenced in Sato and Ballinger (2016) who highlight the importance of peer interaction in second language learning. This is particularly important in terms of furthering and maintaining motivation and attaining language proficiency. 
This interaction with humans, particularly teachers, is vital for language learners of all abilities and goes to the heart of the biggest challenge of learning a language on an app. Ultimately, getting any feedback is highly restricted – if you get the answer right (even if it's a guess) or wrong, there's usually no explanation about why X is the right answer. Learning with an app therefore only tells part of the story – understanding a word, a phrase or a grammatical concept can often be complex and can sometimes only be fully explained by a good teacher. 
Whatever language you teach and whatever age your students are, Sanako's teacher-led language instruction tools include a wealth of unique features that help language educators teach languages more efficiently and more successfully. It's why the world's leading educational institutions choose Sanako as their solution to support online and in-classroom lesson delivery.
If you are interested in learning more about how Sanako's language teaching software platform supports language teachers and students and would like to see how it could benefit your institution, book a FREE remote demo now to see them in action.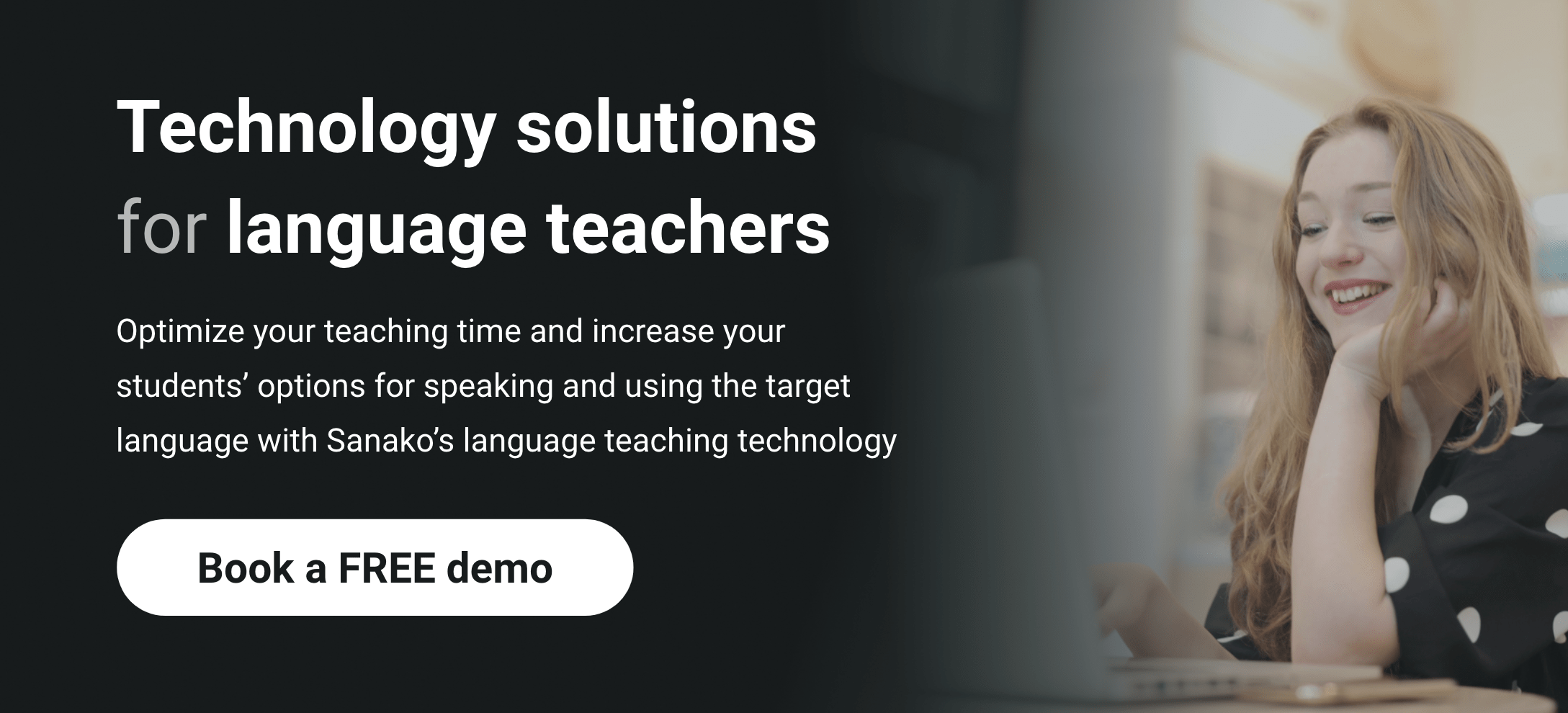 This blog post was last updated 10 October, 2023.