For the last 60 years Sanako has been committed to helping as many people as possible to learn a new language. We've always sought to ensure that all learners and language educators have equal access (wherever possible) to our products and services. We're constantly working to ensure that our language teaching technology solutions improve language learning and are usable and enjoyable for everyone.
At the simplest level, our newest product, Sanako Connect, is a wholly digital language teaching platform, so learners and educators can easily make full use of it wherever they are and whenever they have access to the internet. This virtual classroom software enables users to quickly access all the benefits associated with physical language laboratories (Read also our other post: "What is a language lab?") through a wide variety of devices including laptops, Chromebooks and tablets.
*Read also our other blog post describing the benefits of using technology in language learning.
More usually, the term accessibility refers to the strategies, standards and resources used by digital businesses to make web-based services accessible to people with disabilities like visual impairments. Importantly, such equality of access is ensured through legislation in the form of European Union Directives and American federal and state laws. Sanako is also committed to following the global Web Content Accessibility Guidelines (WCAG) when developing our language teaching and learning software. These form part of a series of guidelines published by the Web Accessibility Initiative (WAI).
As a provider of education technology, Sanako's web accessibility performance has to meet a higher standard than most. In order to sell to education institutions in the EU and the USA, Sanako's products (including our virtual classroom solution) need to follow relevant legal standards, which translate to following WCAG 2.1 Level AA specifications. We're currently working at pace to ensure that our products are suitably "perceivable, operable, understandable and robust" to exceed all of the rigorous standards at this level.
Work is nearing completion on ensuring that Sanako Connect's student-facing app meets WCAG 2.1 Level AA compliance. Sanako is also confident that the app for teachers will also be compliant to these exciting standards by Spring 2021. 
Sanako's approach to exceeding such standards combines extensive in-house expertise in design and technical development with company-wide user-research. This helps us to constantly improve key existing components and to develop new components, based on insights from our users globally. Such a powerful combination gives us a clear view on what needs to be improved and how.
This approach has been instrumental in helping us to improve accessibility across Sanako's online product range for language teachers. Three specific examples of changes we've made follow below.
Keyboard navigation is a must!
Ensuring that all student users can access all elements of Sanako's language teaching and learning platform via their keyboard has been one of our biggest recent accessibility achievements. This is widely recognised as one of the most important aspects of web accessibility as users with motor impairments rely on keyboards. As do those who lack fine muscle control or those who have little or no use of their hands.
As illustrated above, recent changes to Sanako Connect mean that users can control all functionality through the keyboard. Using a series of simple keyboard shortcuts, users can, for example, activate / close recording or zoom in and zoom out of a piece of content.
Text transcripts and captions are needed for listening activities
Ensuring that users with hearing impairment are able to fully access our language lab software clearly presents particular challenges to the Sanako Connect team, given the importance of listening activities in language learning.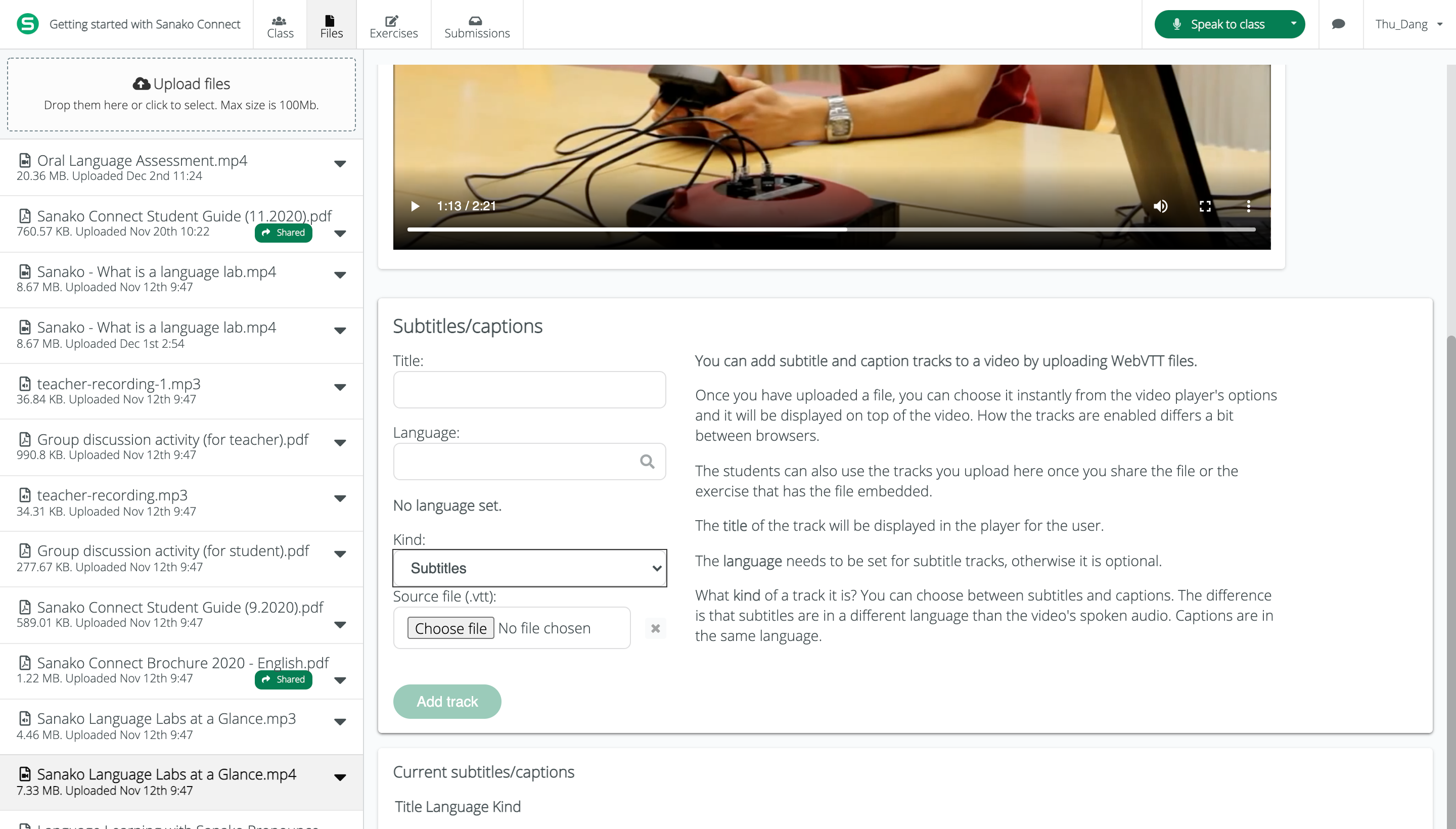 We are currently working to develop a caption / subtitling support for student users to more easily consume audio and video content during the Spring 2021. This solution will enable users with auditory disabilities to read a synchronized text transcript or caption whenever a sound is heard. Importantly the text will be highlighted so that users know exactly what point of the content they are at.
Buttons and icons need to follow the guidelines
Significant focus has also been given to ensuring that the design of Sanako Connect's user experience and user interface meets the WCAG guidelines. As a result, the colour scheme used throughout is at least AA compliant and all font sizes are highly readable.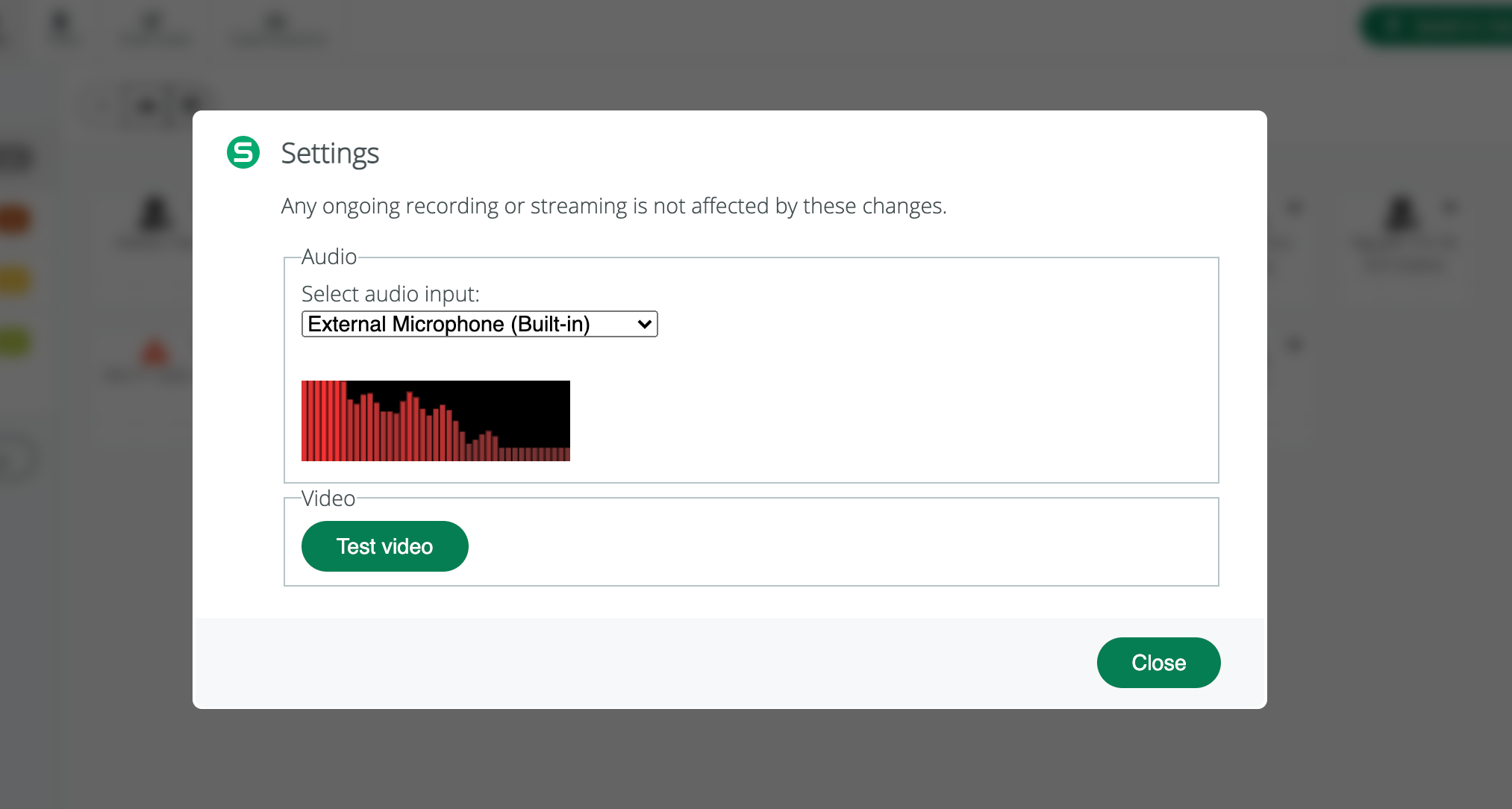 As the above example demonstrates, Sanako has also ensured that icons and colours have been added to pop-up boxes to indicate that action is required. All buttons have also been redesigned to stand out on the page and to exceed web accessibility guidelines.
Where the pop-up indicates an action is required by the user, we've also ensured that screen readers and screen magnifiers respond accordingly to support users who are blind or have limited vision. As a result, screen readers will interrupt output to announce and/or display the alert message.
Teacher generated language learning content needs to follow good Web Accessibility practices
Unfortunately, it's not possible for Sanako's team to adapt every product feature to ensure that we meet recommended guidelines: We cannot, for example, ensure that all materials developed and posted by language teachers via Sanako Connect platform are fully accessible for all their learners. So we seek to support educators (and learners) to improve their own practice by providing extensive guidance materials, helping them to identify where changes need to be made.
We're also always open to feedback from educators and learners about where Sanako needs to make changes to our products to maximize accessibility. All three of the above enhancements came about as a result of feedback from users, so please don't hesitate to contact us via info@sanako.com if you're experiencing any accessibility issues. And we'd also love to hear from you with any suggestions to make your language learning experience with Sanako even more accessibility-friendly!
At Sanako, we believe that language learning is the ultimate 21st Century Skill and are committed to ensuring that our software is as accessible as possible for all students and educators. If you would like to learn more about how we could help your school/university to make your language teaching more accessible for learners, please contact us NOW to arrange your free demo!
Book free demo