What will the language education of the future look like? During and after the COVID-19 pandemic, we have already seen a sneak peek. According to UNESCO data, school closures in 2020 and 2021 affected about 80% of the student population in the world. During the pandemic, the only tool to allow the continuation of education was online teaching, both in compulsory and informal education (private lessons, professional language courses, and so on).
The pandemic has indeed accelerated deep transformations in teaching, and in particular concerning language teaching. Online learning will not replace educational institutions as we have come to know them, but it is destined to increasingly shape the future of the education industry. In this blog post, we will explore how the future of language teaching could look like.
A long-term transformation in education
The shift towards online education, however, is not recent. Nor is it only a consequence of the unprecedented conditions imposed by the pandemic.
In fact, already in 2019, the mobile learning market was worth USD 20 billion. As far as the language learning industry is concerned, online language learning market growth is poised to be USD 5.13 worth by 2024.
This data suggest that the root causes for the growth of online education are profound and must be sought beyond the Covid-crisis. Among the long-term phenomena that drive the development of online language learning, there are:
The widespread digital adoption;
The socio-economic need for cross-border connectivity which multilingualism can serve;
The increasing combination of immersive technology and e-learning is making remote education more engaging by the day.
In addressing the question of the transformation of language education, a central aspect is a relationship between the human and the technological-digital component.
Language learning is a valuable component of modern cultural and professional skill sets. In this context, the element of human interaction will not disappear in the future. On the contrary, it will remain the foundation and ultimate cause of language learning and education in general.
Technology, no matter how immersive, cannot replace people, let alone a good teacher.
On the other hand, one of the characteristics of future language teaching is the interpenetration between human and technological elements.
Four big technology trends to look out for in language education
1. Language education software and mobile learning
Ubiquity, personalization, and user-friendly interactions are the features that make language education software products the winning tools in future language education. They allow for practicing foreign languages using learning content that best suits each students' individual learning styles. Moreover, these tools are always at the user's disposal.
Language teaching and learning software benefit both the student's learning experience and the practical management of the class by the teacher. Creating a learning environment that is effective and engaging for students as well as easily manageable by the teacher is, for example, one of the key benefits of digital language teaching tools.
Another important "brick" of the future of language education is Apps. Nowadays, language teachers and learners can find an App for nearly any task or need they might have. We covered some of the most popular language teaching Apps in our other blog post: 6 best apps for language teachers.
2. Immersive technology
In the future, we will see more and more language learning platforms blending reality and virtual. Immersive technology is a particularly powerful language learning support tool in that it combines virtual immersion and personal interaction. The result of this combination is the creation of stimulating and safe learning environments.
"Immersive technology allows students to practice their language skills online, in an environment that provides them with space to make mistakes, without embarrassment, as many times as they want."
One of the big assets of virtual reality in language education is the opportunity to engage students in real-life contexts that draws on a plurality of media: images, 3D scenes, video, sounds, and writing.
A particularly promising example in this sense is language virtual tours, which allow the practicing of foreign languages in realistic virtual settings. These scenarios can be more or less exotic – ranging from interactions with locals in a European capital to real tours of world-famous cultural heritage sites.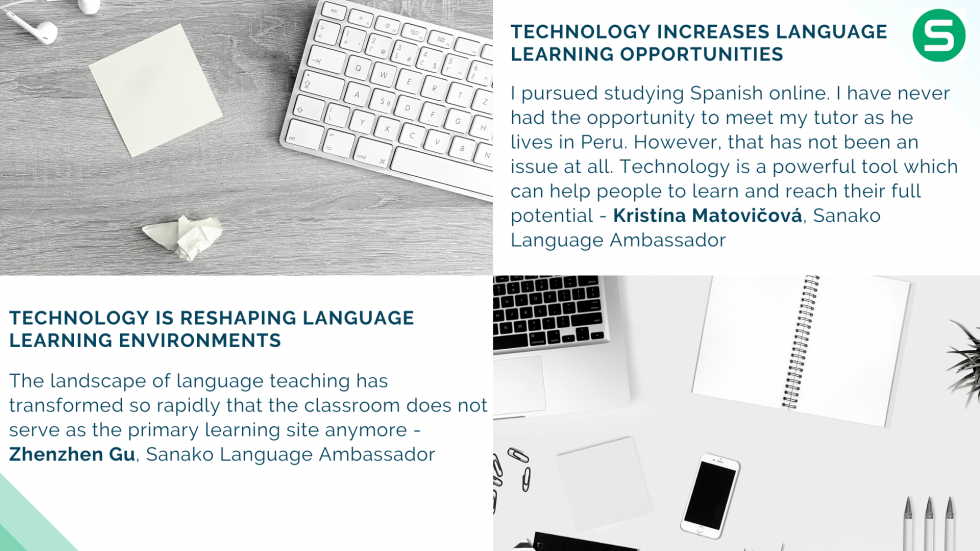 3. Big Data
The use of Big Data is an established reality in higher education, where the analysis of high-volume data streams is supporting universities' management and decision-making. For instance, in several US universities, enrollment and recruiting are largely based on data-driven management. But the insight provided by Big Data can go into even more detail, for example by analyzing the composition of the student population, allowing to design academic programs based on its needs.
Supervising the students that are on track with their studies and those that are at risk instead is another fundamental application of learning analytics in the educational field. Check out also our another blog post about learning analytics for language education.
Data analytics provides a powerful instrument to "measure, monitor and respond" to students' performance, allowing teachers to reassess the teaching methods based on students' learning styles.
When it comes to language learning, analytics might be the right source of information to look at to identify those factors which support language acquisition and those which hinder it instead. The teacher thus has a substantial amount of information to develop study materials optimized for the student's characteristics and needs. Big Data could hence become the basis on which to build increasingly sophisticated personalized language learning strategies. 
4. AI – Artificial Intelligence
Perhaps one of the most promising and influential developments in recent years is the rise of Artificial Intelligence (AI). Especially with new AI tools like the ChatGPT which are accessible and easy to use for consumers as well, this technology is poised to revolutionize various sectors, not least of which is education. Specifically, the teaching and learning of languages is an area in which AI holds tremendous potential.
Firstly, AI promises personalization. It adapts to learners' pace and needs, providing feedback designed just for them. This makes learning more efficient and enjoyable.
Secondly, AI offers limitless practice opportunities. Be it writing, speaking, or playing interactive games, AI's endless supply of exercises helps learners master a language at their own pace.
Thirdly, AI bridges the gap between classrooms and native environments. Thanks to Natural Language Processing (NLP), AI can mimic real-life conversations, accents, and cultural nuances. This makes language learning more immersive and practical.
In addition, AI frees teachers from routine tasks like grading, giving them more time for important work like curriculum planning and student interaction. AI can also spot patterns in students' progress, helping teachers make classes even more effective.
You can read more about how to use ChatGPT as a language teachers from our two dedicated blog posts by following the links below:
These four trends we covered are of course only a small portion of the technological innovations that have an impact on the language education sector. Moreover, they are set to transform not only the toolkit of language teaching but also its spaces and delivery methods.
Therefore, we can also expect an increase in the diffusion of blended learning offers. In blended learning, student-teacher interaction is enhanced by the possibility of accessing online study resources. If well designed, blended learning will be one of the best opportunities to enrich the educational offer.
Sanako: at the forefront of language learning evolution
Sanako has developed a pioneering approach to language teaching software. The cornerstone of the vision behind Sanako's products has always been the combination of technological innovation and pedagogical rigor.
Guided by the globally renowned Finnish learning models, Sanako's philosophy has been translated into a process of testing and improving a cutting-edge language learning technology built on a solid teaching methodology.
This results to products that are accessible, guarantee educational freedom, and customized approaches to language learning. On top of that, Sanako's solutions promote the interaction between the teacher and the students.
Sanako develops instruments that exploit technology to strengthen teachers' didactic efforts and enhance their ability to monitor each students' progress.
At Sanako we believe that technology should be at the service of human interaction. After all, the goal is to bring people closer together by overcoming communication barriers.
Therefore, it is part of our daily mission to study solutions that use education technology to support the cultural and social development of human communities.
Contact us now if you are interested to learn more about how our language teaching technology helps schools and universities to improve their language teaching methods and results.
Resources used in this article:
C. Rogers, Is immersive tech the future of language learning?, Education Technology
E. Zimmerman, What Can Real-Time Data Analytics Do for Higher Education?, EdTech Magazine
G. Mariani, 10 ways colleges use analytics to increase student success, eCampusNews 
J. Kim, Learning Analytics and Campus Instructional Design Teams, Inside Higher Ed
S. Hubackova, I. Semradova, B. Frydrychova Klimova, Blended Learning In A Foreign Language Teaching, Procedia – Social and Behavioral Sciences, 28/2011, pp. 281-285
U. M. Koivula, Virtual Tours in Language Learning: Three reasons why they make sense, Medium
This blog post was last updated 20 June, 2023.