Learning the ability to communicate with a native speaker in a different language is a powerful motivator for many language learners. Yet developing strong speaking skills is not just about having good vocabulary or grammar knowledge. Pronunciation is also a key part of fluency and is frequently an under-emphasised element of language learning programmes in most formal education systems. Similarly, assessing students' pronunciation skills is not always an easy task for educators and often it is not even a part of our formal language learning programs.
Accurate pronunciation (the way in which a word or letter is said, or said correctly, or the way in which a language is spoken) is a vitally important part of learning any language. All English learners will know that spelling often isn't a useful guide to how to actually say a word. So the way that someone's speech sounds has a big impact on the first impression they make and whether or not people can understand what is being said.
This blog post aims to explore how educators can easily and accurately assess students' pronunciation as well as suggesting ways for students to assess themselves. The post also explores how digital language teaching tools, such as Sanako Connect, can help and support language teachers in this work.
3 tips for teachers to assess students' pronunciation
In any language assessment, it's important to ensure that it is based on detailed evidence rather than subjective opinion. For pronunciation assessment, educators must therefore consider more than just how the words and letters sound. There are a range of other factors to consider, according to the British Council. These include "intonation (how the tone of voice changes during a sentence, going up or down), stress (which words and syllables have more 'weight' when we are speaking), and connected speech – how words can sound different when they are joined together in natural speech."
There are a wide variety of techniques for educators to deploy when seeking to assess pronunciation ability, but expert opinion identifies the following three as key. Frequently using a variety of different assessment techniques is the best way for educators to get a clear picture of each student's abilities and support requirements.
1. Record students individually
This is particularly useful for conducting an initial assessment and gaining a baseline of student ability. Try and capture each student at the beginning of their course either reading a passage from a book aloud or by having a simple conversation with them.
The recording provides a permanent record of initial student performance, which can be added to over the period to track (and evidence) their improvement. It also provides a first opportunity for the educator to provide simple, positive feedback to the student and to identify areas for improvement or additional focus.
2. Listen to students in conversation
It is, of course, vital for language learners to regularly practice their speaking skills with their peers and, where possible, also with native speakers. Educators must, either face-to-face or online, provide opportunities for speaking practice to occur and to capture the outputs for assessment and feedback.
Classroom-based and online language teaching software solutions both enable educators to easily facilitate and record such conversations. Educators are also able to drop in and out of conversations as they happen to pass on improvements. More formal assessment and feedback to students can also be provided by reviewing the recorded conversations.
As pronunciation and speaking assessment is a part of some well-known language certificates and exams such as IELTS and World Languages AP® exams in the USA, we at Sanako have also developed speaking assessment features into our Sanako Connect platform. Educators can easily simulate the AP® exam speaking tasks and also the IELTS speaking tests using our tools. If you'd like to learn how this is done more specifically for these assessments, then do check out our dedicated video tutorials:
3. Tailored exercises
Another good way to assess student pronunciation is through regular assessment exercises, which are designed to address specific areas of focus.
Such tasks require an appropriate variety of stimulus material for students to respond to in order to demonstrate their knowledge and skills. Again, language teaching software tools like Sanako Connect provide educators with easily-adaptable templates for common language teaching activities, including model imitation, role plays, group discussion and so on.
Students can also either be tasked to record themselves speaking to a prepared piece of content. Sanako Connect allows educators to create original or reuse existing soundtracks, which the student then attempts to emulate. Their pronunciation can then be reviewed using Connect's advanced dual-track recorder. This allows teachers to add comments at the precise point in the student's recording where a mistake needs to be rectified or where achievement is recognised.
Sanako Connect allows teachers to give time-coded feedback directly on each individual student's audio recordings.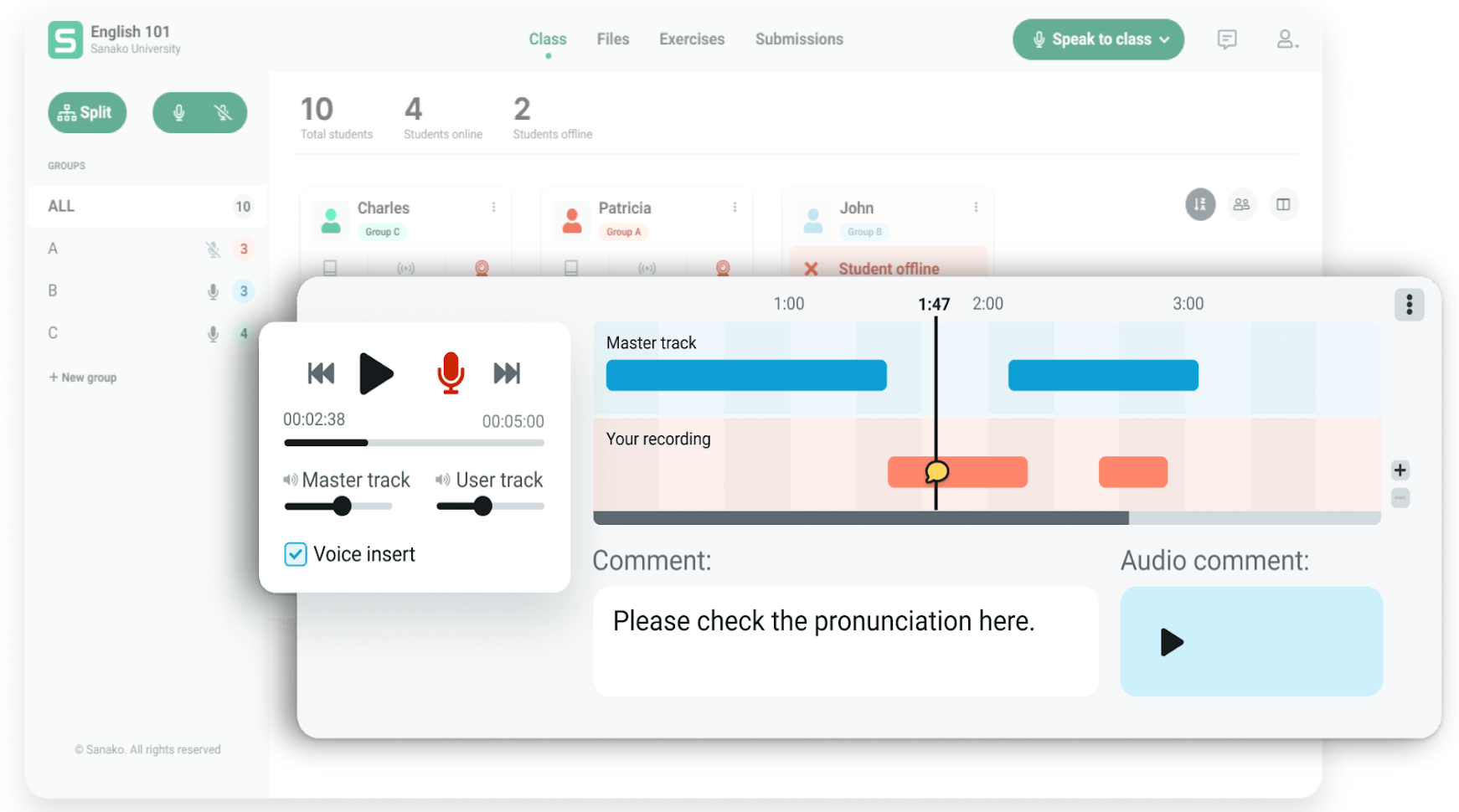 Encouraging student to self-assess their pronunciation skills
As well as assessing students' work, there's lots of support that educators can also give students to encourage them to review and improve their own pronunciation skills. Three top tips for students' self-assessment follow below.
1. Record yourself
For students who want to improve their pronunciation and speaking skills, using their mobile's voice memo or voice recording functionality available in the chosen language teaching software is a great way to do so. It can be particularly useful in helping students to identify their own mistakes and to highlight words or phrases that cause them particular difficulty. In addition, many students will benefit from just speaking more frequently in their chosen target language. This approach might be of particular value in building the confidence of those students who are nervous about speaking in class or in public.
2. More time listening
Listening to native speakers speaking is the easiest way for students to improve their pronunciation. Whether that's through film, music or podcasts, there's a wealth of free, high-quality content online for students to listen to (and enjoy). Encourage students to try shadowing – get them to listen to phrases and repeat them afterwards. They should try to mirror the sounds, intonation and stress used to become more familiar with the physical movements required to make them!
3. Practice, practice, practice
As outlined above, different languages use very different sounds and our mouths need to learn how to create them. Speaking a foreign language often requires your mouth, tongue and lips to move in unfamiliar ways. And this, like any other physical skill, requires practice. It's a cliche, but the more you practice the easier it gets, particularly if the sounds don't exist in your native language!
How can Sanako Connect help educators to assess students' pronunciation?
Sanako Connect is a powerful browser-based language teaching tool that helps educators to assess their students' pronunciation skills. It enables educators to:
Create pronunciation assessment tasks using a wide variety of media including sound files, text, presentations, videos, audio files, and/or web pages.
Transform any text material into spoken audio using the system's text-to-speech technology.

Students can then listen to these authentic speech models, record their own voice for comparison and receive immediate feedback & scoring.

Invite students to complete the assessment by simply clicking on a unique URL link. No login details are required, so there's no data privacy or data storage issues for educators to worry about either!
Flexibly allow students to complete the assessment at a time that's convenient for them. The test can be completed on a particular day at a particular time in a teacher-led fashion (synchronous live assessment) or whenever they want to before the deadline (asynchronously)!
Give students access to the assessment from any location with internet access, at any time and using any device, including laptops, Chromebooks, tablets, and smartphones.
Allow groups of students to conduct conversation practices at the same time. Teachers can listen in, give feedback in real-time and even record the individual group discussions for review.
Provide detailed feedback via Connect's feedback functionality. A piece of audio feedback can also be carefully placed next to particular points of the student's recorded oral submission that need attention.
If you'd like to find out more about how Sanako Connect could help to transform your approach to assessing students' pronunciation skills, go to this page for more information and book your FREE demo!