What makes a great teacher? Well, there's no easy answer to that question, but key ingredients have to include drive and enthusiasm, an unquenchable desire to help your students, and a genuine love for the subject you teach. It was, therefore, a pleasure to talk to Jane Austen-loving Mrs. Roberta Mosca of Liceo Classico Vittorio Emanuele II, who certainly ticks all these boxes. We talked about her teaching practice, how her English lessons have changed during the pandemic and how Sanako's virtual classroom software helps her students maximize opportunities to practice their spoken English.
Located in Jesi, a town in the province of Ancona close to Bologna in the north of Italy, Liceo Classico Vittorio Emanuele II is a high school with over 700 students, aged between 14 and 19. It was one of the first high schools in the town and educates students on three main tracks – the classics, human sciences, and social economics. English Language and Literature are essential components of all three curricula and are taught by a team of 7 teachers, including Mrs. Mosca.
The students are highly motivated and "adore English," Mrs. Mosca reports. Students are "continually exposed to English language and culture" and her class of 15-year-olds is apparently big fans of Downton Abbey! Mrs. Mosca has only 3 hours of English lessons with each class every week – it's easy to sense her frustration at this "limited engagement", but the students are "a pleasure" to teach. Her biggest difficulty, she says, is finding the right language learning resources and materials to keep them motivated and progressing.
Traditional teaching methods
Life pre-Covid, Mrs. Mosca comments, "seems like centuries ago" and she's noticed significant changes to her lessons as a result of online delivery. Previously, her English language lessons would have followed the core textbooks, typically with a video stimulus and with a priority attached to conversation practice and writing tasks. In order to support her students' four core language skills (listening, reading, speaking, and writing), Mrs. Mosca said that she would also develop more creative and bespoke activities including role-plays.
In English Literature sessions, her students studied a traditional diet of classic texts, which would then be subjected to rigorous analysis. Importantly, Mrs. Mosca sought to deploy cross-curricular techniques to bring literature and language studies together. These aimed to boost understanding of key concepts, whilst developing key skills through creative writing projects. Getting her students to imagine themselves as Robinson Crusoe, stranded on a desert island, for example.
A dramatic shift online
Lessons during the pandemic have, she notes, been "completely different as it's now all online." The pandemic struck almost without warning and it was hard for her, her colleagues, and students to adapt: "It just hit us!" She admits that her first online lessons were a struggle and that she "was just using whatever online resources I could find." From September 2020, things began to improve as Italy's national and regional governments deployed remote teaching technology (e.g Google Classroom) to make things "more organized." Even in April 2021, the whole timetable is still being taught online and Mrs. Mosca and her colleagues are constantly creating lesson materials and supporting resources for their students to work through.
She's clear that the shift to online teaching has been an "enormous change." For Mrs. Mosca, an avid Shakespeare fan, the shift is best explained in this brilliant theatrical analogy:
"Previously we were just actors on a stage, trying to motivate students with our physical presence. And now, we are directors trying to select the right study material for the right class according to their mood."
She also notes that this typically means deploying more creative approaches to engage students. One example she describes sees students working as curators of an exhibition at the British Museum. However, she acknowledges that: "It's hard work for them and for me, but I think it's more suitable for online learning." It's also particularly challenging, Mosca reflects, when her students are desperate to go back to school: "They just want to be together again."
However, Mrs. Mosca is clear – the experience has transformed her teaching practice and she's preparing to build back better when school reopens. It has, she says, had "a very deep impact on my teaching and I will continue doing many of the things I've learned and done during the lockdown."
Using new language teaching technologies
The things she will be continuing to use are dedicated online language teaching tools, particularly Sanako Connect. Liceo Classico Vittorio Emanuele II started using this software to facilitate online language learning at the end of 2020 – it was specifically deployed in the first instance to support speaking practice, but Mrs. Mosca is "keen to get students using it for reading and writing exercises as well."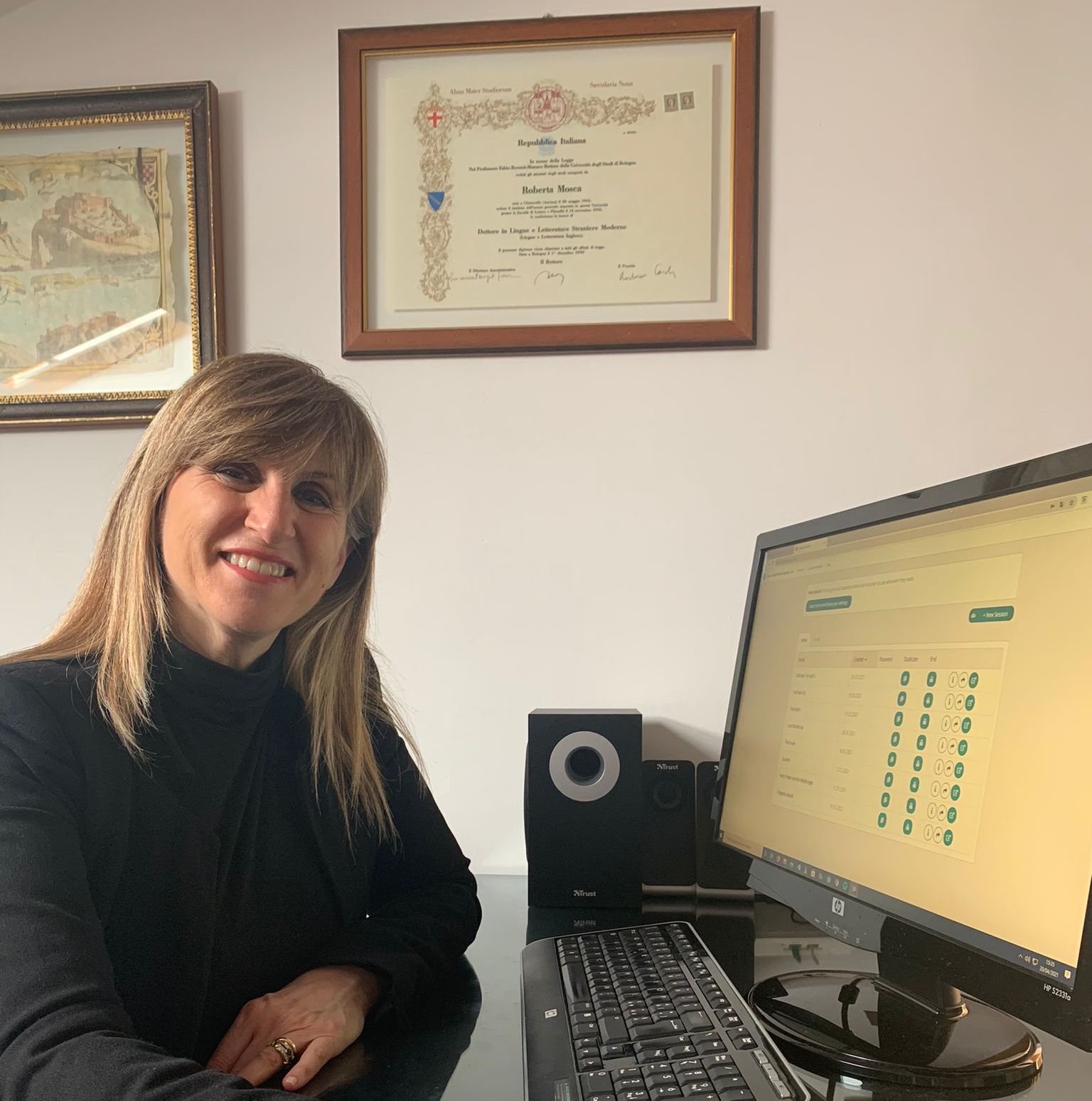 Connect, she says, is "really, really clear and simple to use." Mrs. Mosca likes how the tool is "very convenient. I can set questions for 20 students in one go and can then receive and review all of their answers in one place." Importantly for the school, Sanako Connect offers "specific language teaching functionality that we don't have on Google or anywhere else." As Mrs Mosca comments, Sanako Connect also enables her students to tackle more challenging creative projects: "I want to see students using it to post their opinions and reviews of topical events such as President Biden's inauguration speech or the assault on the Capitol."
Whether it's used for responding to global news or analyzing Pride and Prejudice, Sanako Connect supports language teachers like Mrs. Mosca to enhance their teaching and engage their students as never before – even when teaching remotely.
We are proud to be the product of choice for great teachers like Mrs. Mosca and for great schools like Liceo Classico Vittorio Emanuele II – that's why we're on a mission to help language teachers across the world to teach languages better and more efficiently.
If you are interested in learning more about Sanako's virtual classroom software and would like to see what benefits it offers especially for language teachers, then click here or the banner below to learn more!