As a part of Sanako's mission to help language teachers to improve your teaching efficiency and results, we have searched the Internet far and wide to find our favourite language teaching blogs written by professional MFL (Modern Foreign Languages) language teachers. 
You can trust the advice from these professional language educators. They know the language teacher's job inside out – the dreams, the demands and the downfalls. Each of these MFL teachers produce inspiring and creative content which you can use to diversify your lesson plans.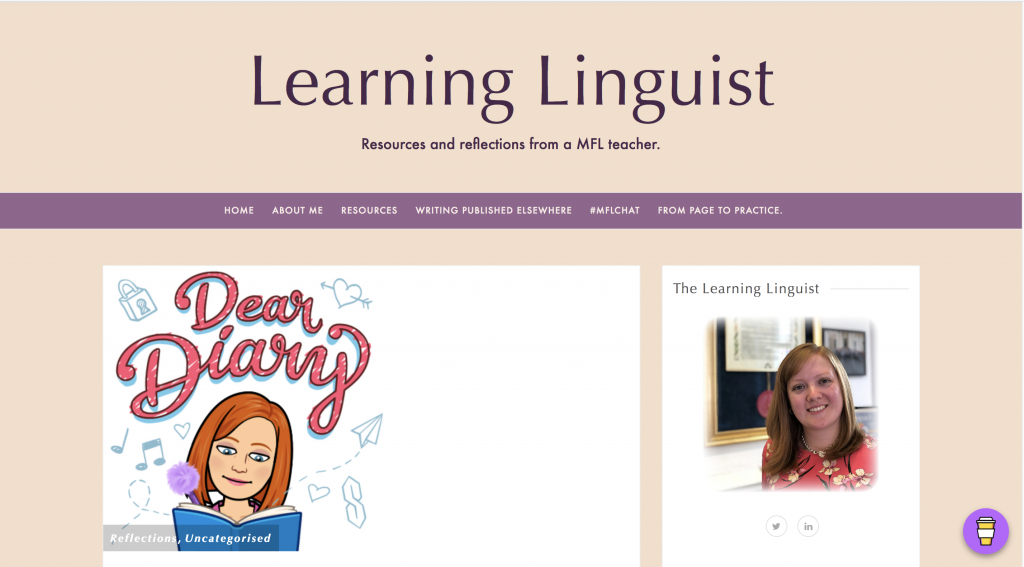 Rebecca Nobes is the Head of the Spanish department at her school in Essex, UK. She has been blogging since her undergraduate days and now runs the Learning Linguist blog and #MFLChat on Twitter. Rebecca creates interesting language teaching resources for levels KS3, GSCE and A Level which are all free to download on her website. They are generally written for Spanish lessons but can be easily adapted to fit other languages as well. We really enjoy her Reflections blog post series in which she recounts her honest thoughts on being an MFL teacher.
P.S. Rebecca hosts the From Page to Practice podcast where they look at applying educational reading and theory to the real life language classroom.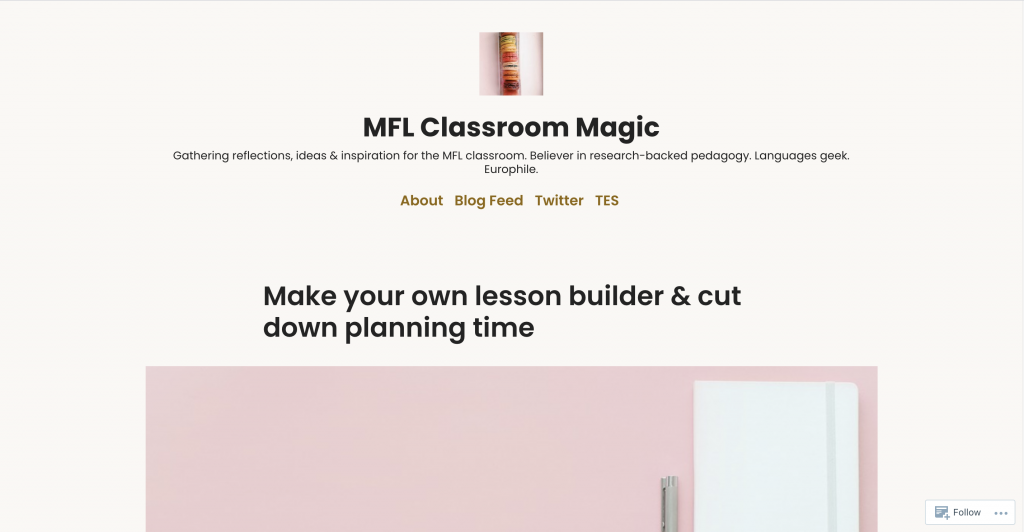 Self-professed language geek, EClaire is a secondary school French and Spanish teacher in the UK. At mflclassroommagic.com, she posts lesson plan ideas and MFL teaching tips for language teachers. She is also super active over on Twitter where you can find even more tips and inspiration and she creates her own resources which are available at TES. We really recommend having a look at her 5-Star MFL Lesson Builder– it's simple to follow, full of diverse and interesting ideas and can be used for any language!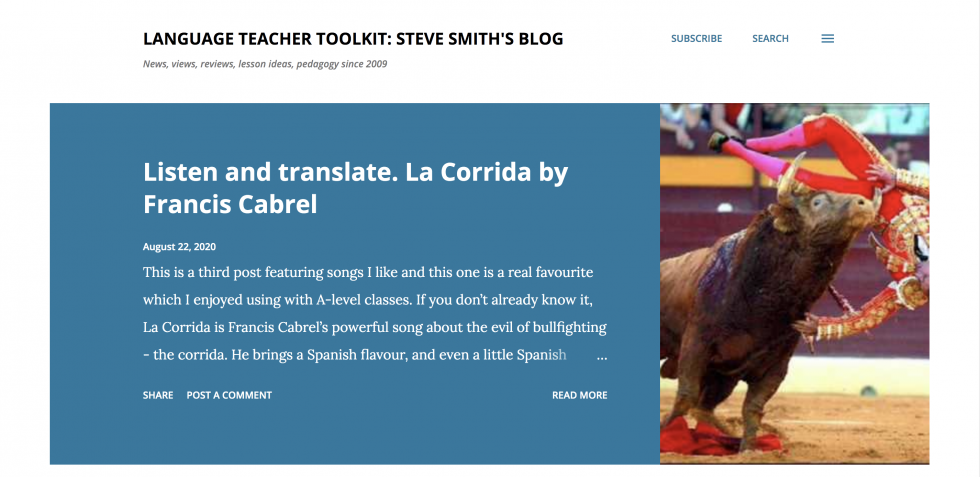 With 33 years of teaching experience and a plethora of professional achievements under his belt, Steve Smith has all the knowledge and advice any language teacher might need. He regularly posts really useful teaching content and resources which will help you to plan fun and interesting MFL lessons. His blog and resources website will be particularly interesting for French teachers but a lot of his content is suitable for the teaching of any language. We recommend you check out his Teacher's Guide for a lot of detailed and high quality advice.
P.S. Steve also published 50 Lesson Plans for French Teachers which covers lessons for KS3, KS4 and more advanced classes. The book provides 50 easy-to-follow lesson plans which you can use to create diverse and engaging classes.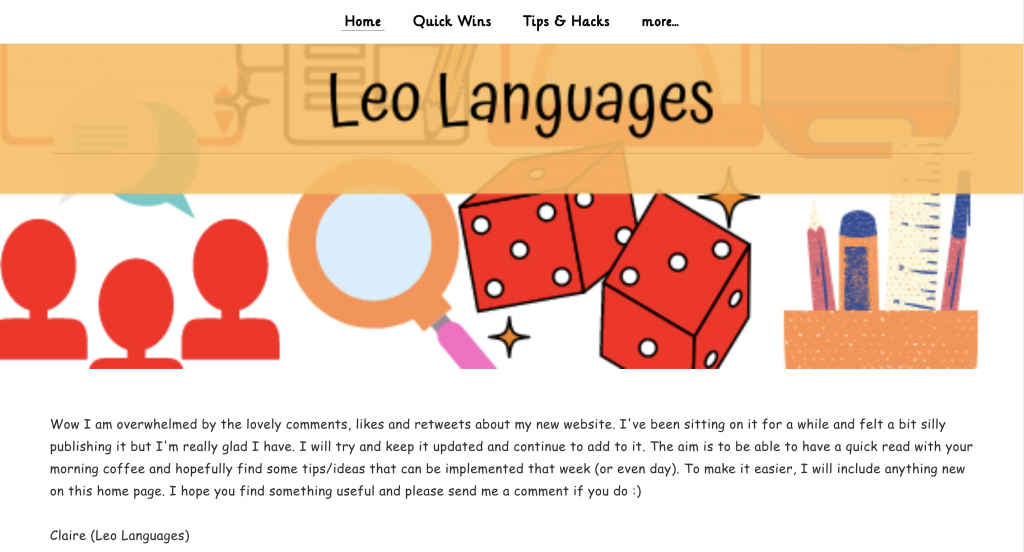 Claire at Leo Languages has been teaching Spanish and German for about 12 years now and has collated all this experience into one fantastic website where you can find activity ideas, MFL teaching tips and more. Her Quick Wins page is full of simple but effective activities which will keep your students engaged and entertained. Claire also writes about incorporating technology into the language classroom which will be especially useful to those of you who are remote teaching at present.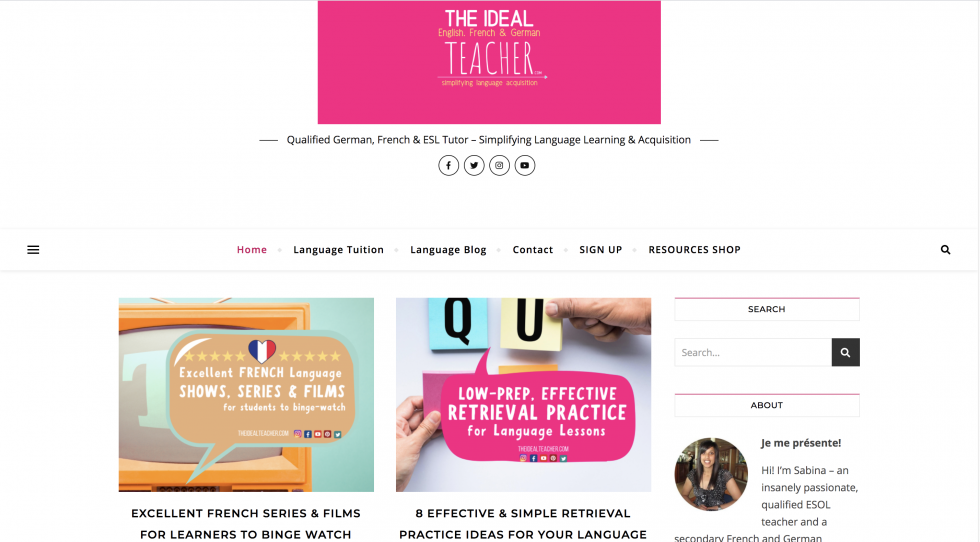 Sabina Seidel, German, French and ESL tutor, regularly posts incredibly valuable content at The Ideal Teacher blog and we definitely recommend that you check out her website if you want to effectively reduce your planning and preparation time. Her posts include classroom activity ideas, MFL teaching tips, resource links, lesson plans and more! 
P.S. We can imagine that Covid-19 has forced you to adapt your regular activities and teaching methods. If you're stuck for ideas, have a look at Sabina's fantastic list of 'Online friendly' language teaching activities.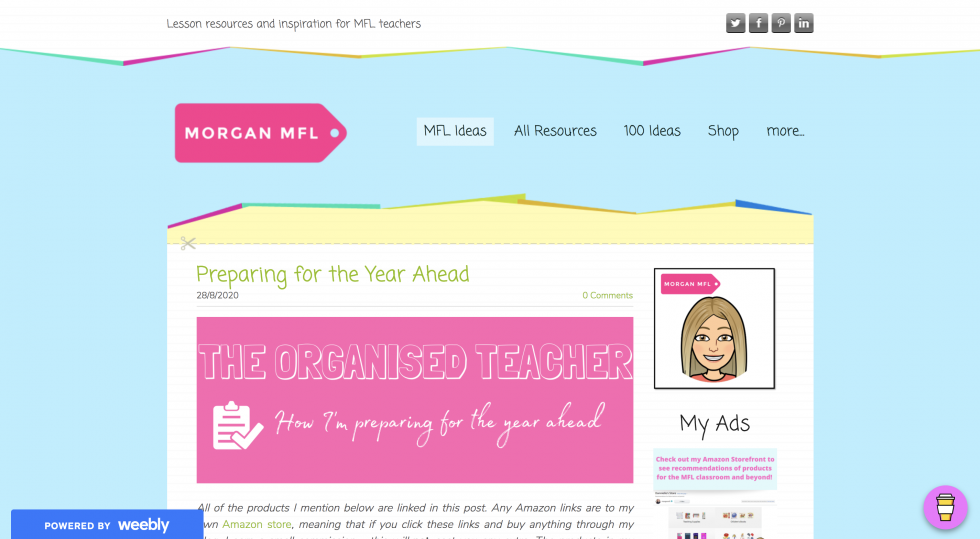 Dannielle Warren is a French and Spanish teacher in the South of the UK. As well as being clear and easy to follow, her blog is full of helpful language teaching resources and tips which will undoubtedly make your life as an MFL teacher easier. On top of all this, Dannielle has also written a book, 100 Ideas for Secondary Teachers: Outstanding MFL Lessons. It is suitable for all MFL classrooms. Dannielle also often posts about her honest thoughts and feelings on language teacher's life; she reminds us that, behind the creativity and productivity, there are difficult moments that she must face like everyone else. Inspiring and relatable content- well worth a read.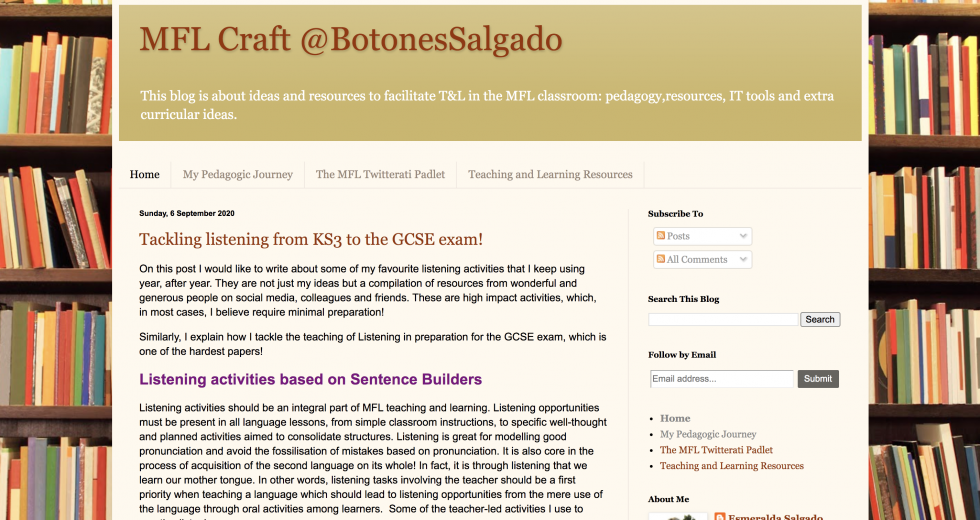 Esmeralda Salgado is the Head of Modern Languages at her school in Cambridgeshire, UK. You can count on Esmeralda and her blog, MFL Craft, to provide top-quality advice and language teaching resources which are based on her 20 years of MFL teaching; her breadth of knowledge and experience will be invaluable to you as an MFL teacher. From innovative classroom activities to making the most out of digital language teaching tools, Esmeralda goes into fantastic detail across many different topics to support your teaching methods. If you choose to implement the Sentence Builder approach, we highly recommend you read through her blog.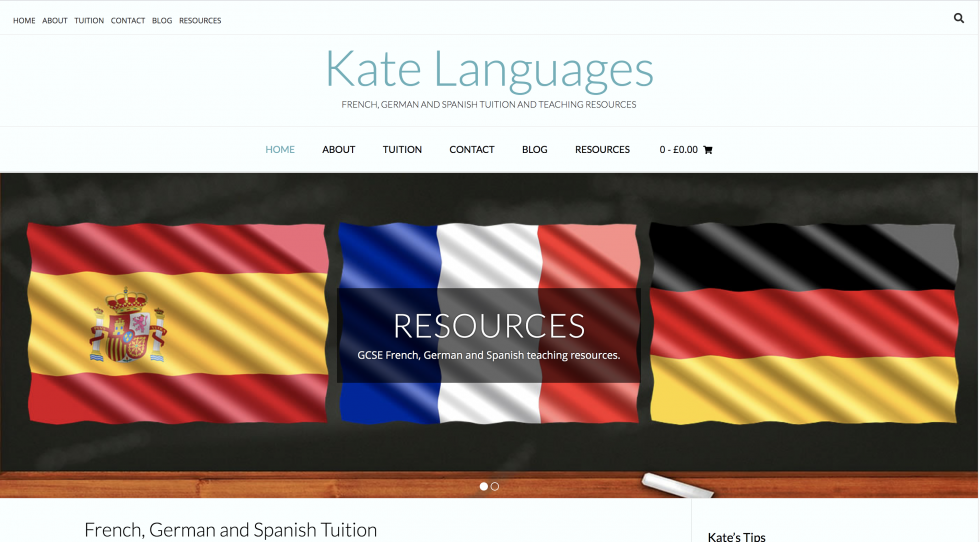 Kate is a French, German and Spanish tutor. On her blog, Kate Languages, you will find lots of teaching resources which you can use to diversify your language lessons and improve your student engagement. Kate also creates teaching resources to help you deal with the plethora of stresses and anxieties which can come with being a language teacher (take a look at Kate's Positivity toolkit). Here you will find worksheets to help you manage teacher life; from finding motivation to practicing gratitude, Kate's resources can help lighten your burdens and improve your emotional wellbeing.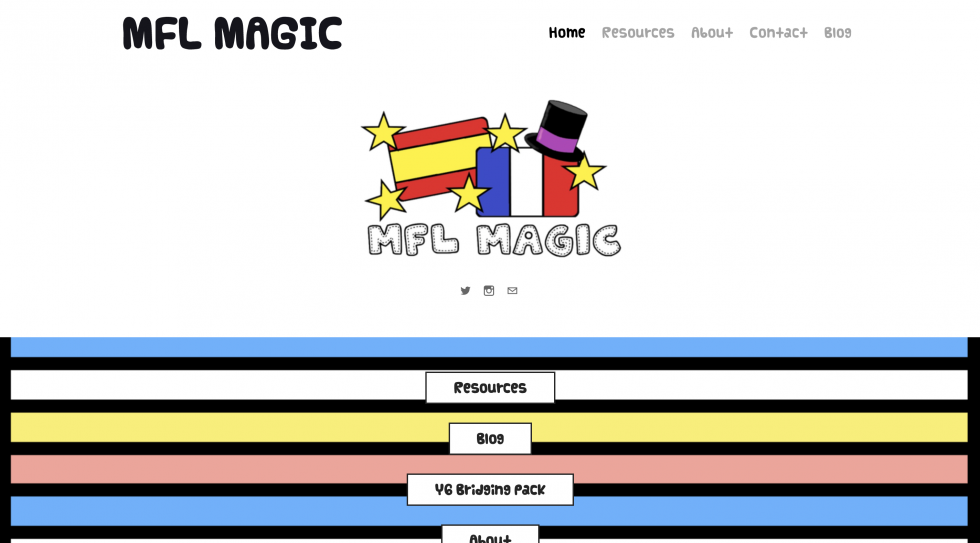 Head of Department in a secondary school in the North West of England, Alex has created MFL Magic as a home for her wonderfully creative MFL resources. Although you could easily adapt these resources to fit any language, this blog will be particularly useful to those of you teaching Spanish. French resources are promised to follow soon so don't forget to bookmark this amazing language teaching blog!
As a Head of Modern Languages with around 20 years of teaching experience, you can trust that Jane Basnett's advice will effectively support your teaching methods. Jane shares creative and diverse content, including many language teaching resources which are suitable for all ages. These teaching resources largely focus on teaching French but you can, of course, adapt them to fit your language. With an MA in Digital Technology in Language Teaching, Jane guides you through effectively incorporating digital practices and tech tools into your teaching which will be invaluable given the new challenges teachers are facing as a result of online teaching!
*Check out also our another list "top 10 resources to transform your language teaching".
Click here to Subscribe to Sanako's Blog for Language Teachers for more inspiration and language teaching resources!