Testing and assessment play a key part in language teaching, helping identify students' progress and highlighting areas of weakness to address in future lessons. Yet many educators and institutions still spend significant amounts of time preparing, organising and marking both formal examinations for national qualifications and ad-hoc tests and quizzes.
This blog post explores how Sanako's language teaching and learning technology combine assessment and teaching functionality to support educators to create and mark assessments – both in the classroom and remotely. Thereby saving educators and institutions significant amounts of time and energy.
Externally-certified examinations
In many instances, language learners will be studying for a formal qualification and will be required to take an exam in their own school environment. Sanako Study product is a highly reliable exam partner for a wide range of qualifications including, for example, the AP® oral exams in the USA, which teachers can set and administer through the platform.
These AP® courses and exams give students in the US and globally "the chance to tackle college-level work while they're still in high school and earn college credit and placement." 
By working closely with AP®, Sanako Study has been specifically designed to set up, test and collect student AP® oral responses. As a result, it is fully compliant with the AP® test and its preset AP® Exam module enables all student recordings to be recorded and saved in MP3 format. 
Sanako Study also ensures that educators and students can follow a simple, specific 5-step workflow for the proctor to administer the AP® Exam. Only Sanako Study has such a pre-set AP® Exam system in place for institutions to rapidly deploy and use.
Sanako is currently developing the technology to add the AP® Exam training functionality onto its online language lab solution Sanako Connect. This will enable students and educators to prepare for and complete their AP® examinations, online and at a distance from their education institution.
Additionally, the Sanako Lab 100 product also supports the delivery and assessment of the GEPT (General English Proficiency Test) in Taiwan. This important standardised English language test can be easily managed locally by educators. Sanako has developed a simple step-by-step method for them to deliver the GEPT and has created extensive resources to support them throughout the exam process.
Dedicated Examination Modules
Sanako Study is a highly flexible, modular software product. Users are therefore able to add functionality to the core solution by purchasing extra resources that match their institution's requirements. The Examination Module is one of the most popular additions as it simplifies the creation and administration of language tests. 
The Examination Module is created around a 6-step "wizard" application that helps teachers to create their own tests. Teachers can easily vary the types of test questions and edit any existing material in order to test particular knowledge or skills. Results can also be made available to educators and learners immediately, providing valuable feedback on their performance and areas of improvement. Notably, students can also use the Examination Module for independent practice where existing test material is available. 
Creating and reviewing online exams and tests
Sanako's cloud-based language teaching solutions enable educators to assess students' progress and attainment while studying and teaching are primarily delivered online. They can uniquely deliver exceptional online testing environments alongside superb pedagogical support for educators and learners.
Sanako Connect, for example, provides educators with highly flexible solutions for online student-testing. Educators can easily upload a wide variety of test material for students – any combination of PDFs, presentations, sound files, videos and web pages can, for example, be easily attached to the test specifications. In response, students are able to complete multiple-choice quizzes / single answer tests and upload a piece of their own verbal or written work.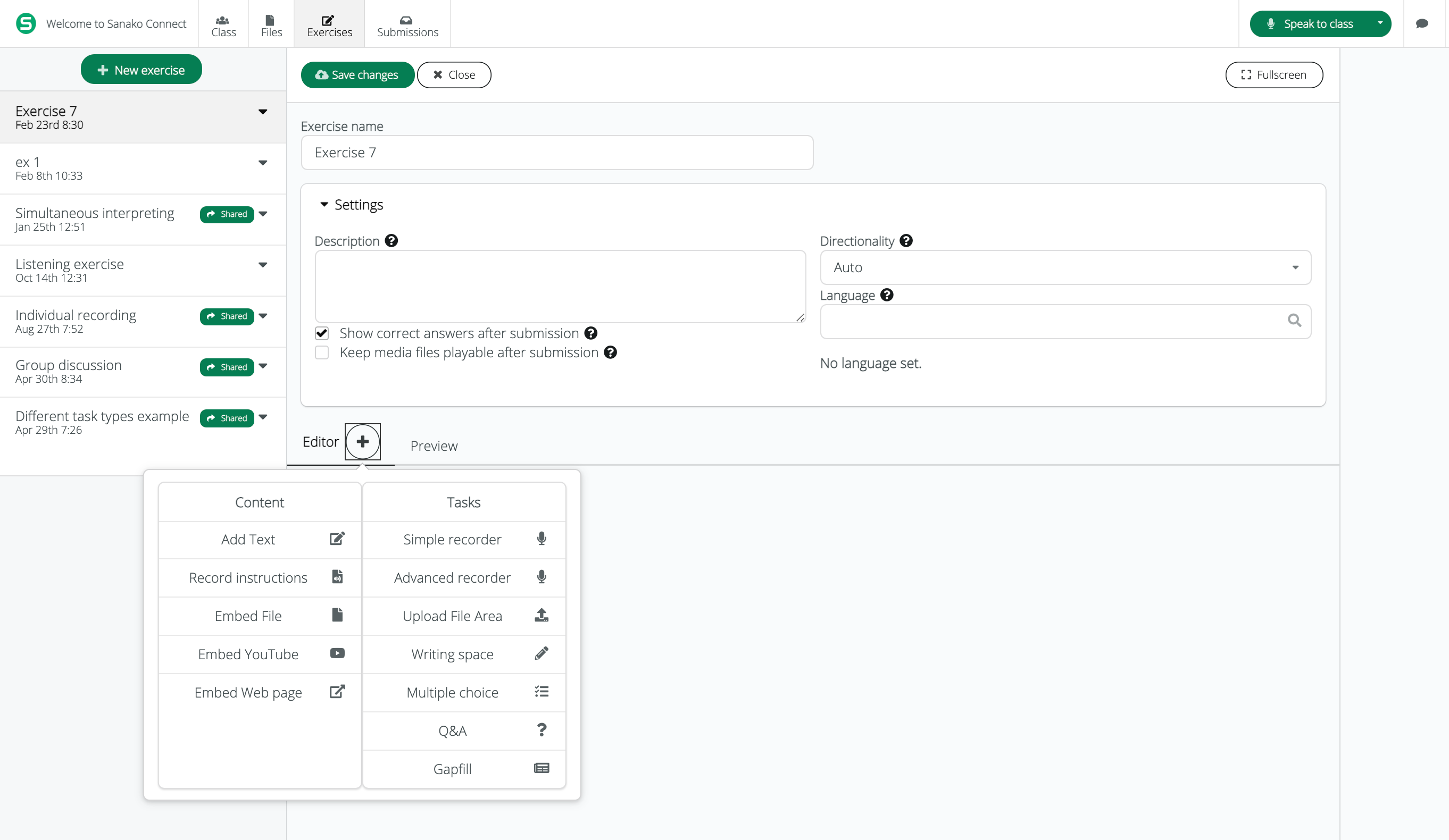 Educators are able to amend their preferences to allow students to see the right answers immediately or at a later stage. They can also switch views to review the work submitted by individual students or use a whole class view of their collective performance in specific assignments.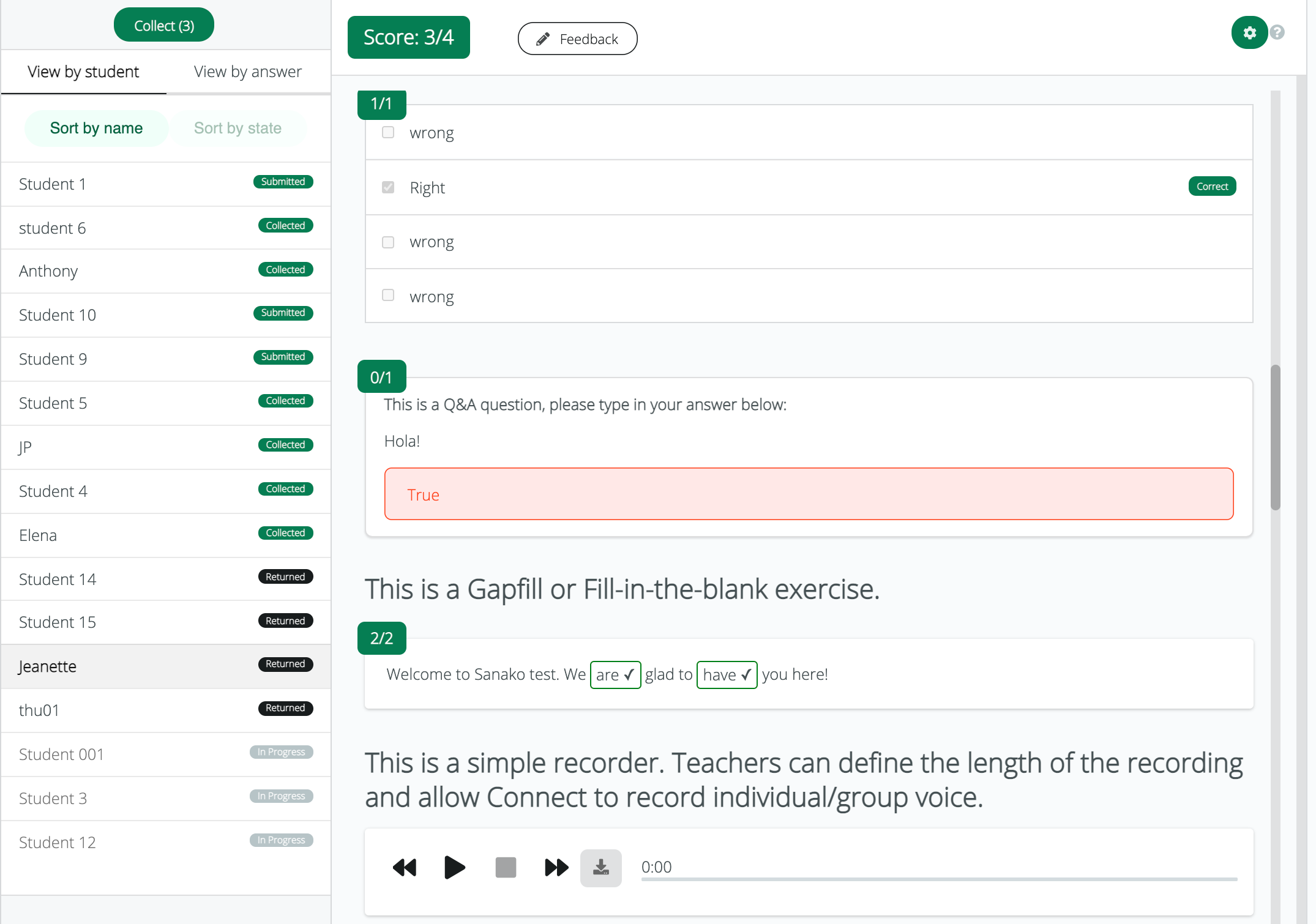 Turn our pre-built language learning content into exams
Educators can also create examinations and tests using Sanako's next-generation multi-language content library software, Reactored. Most notably, as outlined here, Reactored's technology can automatically transform any of the pre-built language learning materials into vocabulary and translation tests within a few clicks. Reactored, which is used as an add-on content library for Sanako Study and Connect, currently includes a library of 4.500 pre-built digital language learning activities for English, Spanish, French, Chinese, Vietnamese, and Swedish.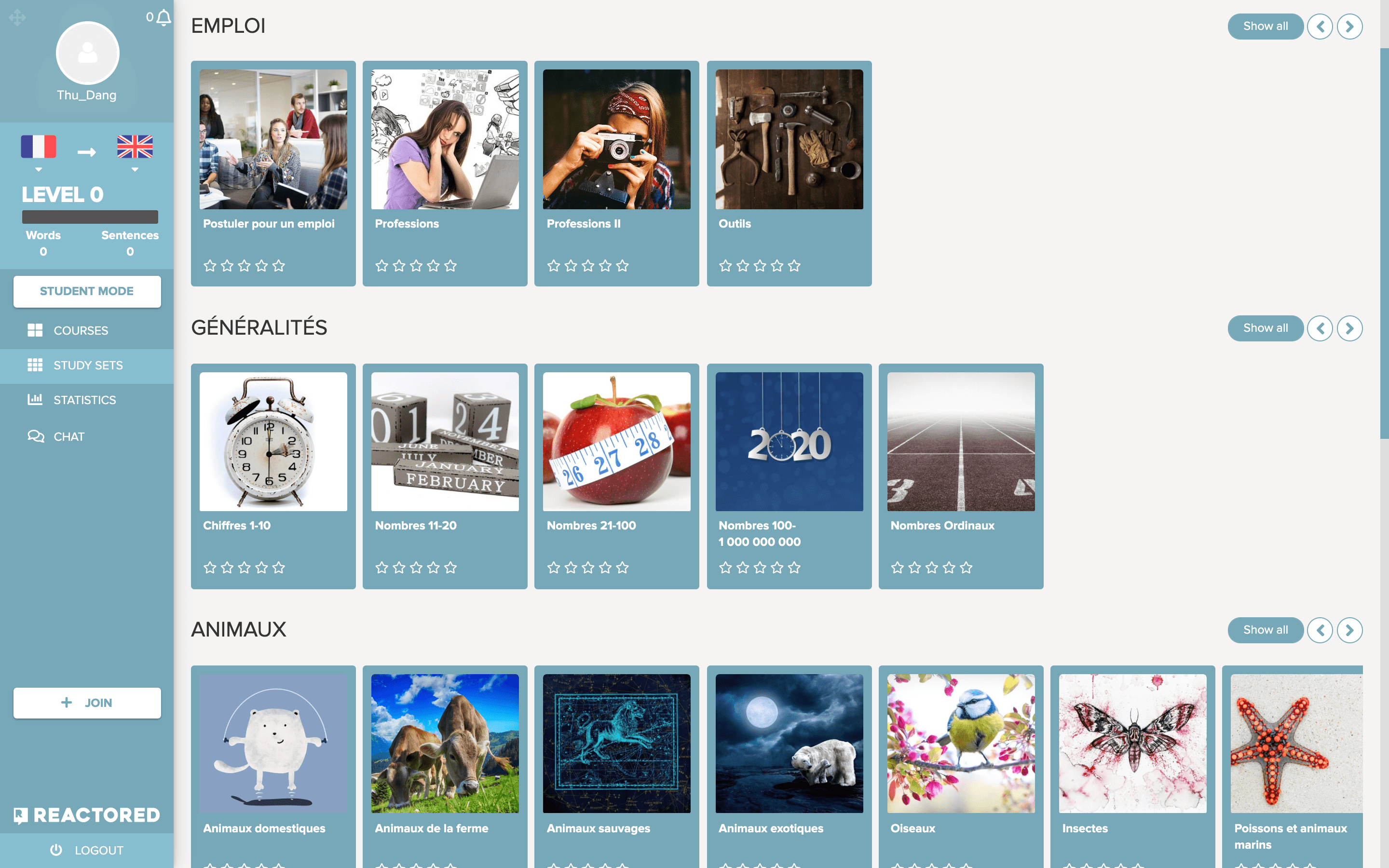 Reactored's unique assessment tool also gathers together all of the answers from every completed test. At a glance, educators can see individual student scores or whole group results. The tool is powered by a self-learning, AI-powered engine that scores answers based on your mark scheme and as other tests are marked / scored. This enables educators to save significant amounts of time as the most common right / wrong answers are identified and marked automatically.
*Read also our blog post which explains the benefits of using language learning technology for different stakeholders (individual students, teachers and for the whole school).
If you're interested to learn more about how Sanako's assessment technologies could transform your approach to testing language learners, then contact us NOW to arrange an online demo!