A language lab software is an efficient tool for language teachers to manage their English or Foreign language classes better and increase their students' learning results and grades. In this article we'll show you why Sanako Study is probably the most popular and best language lab software on the market and why it makes sense to use it in your school or university.
What is Sanako Study?
Sanako Study is a software tool for professional language educators. Sanako Study allows teachers to manage their language classes more efficiently with classroom management features and it helps them to create and launch different language learning activities for their students.
With the predefined language learning activity workflows of Sanako Study language lab software, you can increase the time students spend actively learning. Moving from passive learning to active learning has been proven to improve students' overall performance and results. Many of our customer have reported that they have been able to increase students' grades easily more than +30%. Sanako Study is currently used in over 30.000 classroom worldwide.
Working with Sanako Study – one of the best and most popular language lab software solutions – means individualizing the teaching, enjoying the interaction between the teacher and students and keeping up with student progress. With model imitation and different discussion activities, it will be easy to improve even the most difficult to teach elements, such as pronunciation and intonation.
*If you are new to the whole language lab concept, you might be interested to also read our other article covering the fundamentals of language labs.
Below is a screenshot of Sanako Study's teacher user interface: Teachers can arrange their student icons to represent their real physical classroom layout. The left side panel allows a quick and efficient way to start any language learning activity.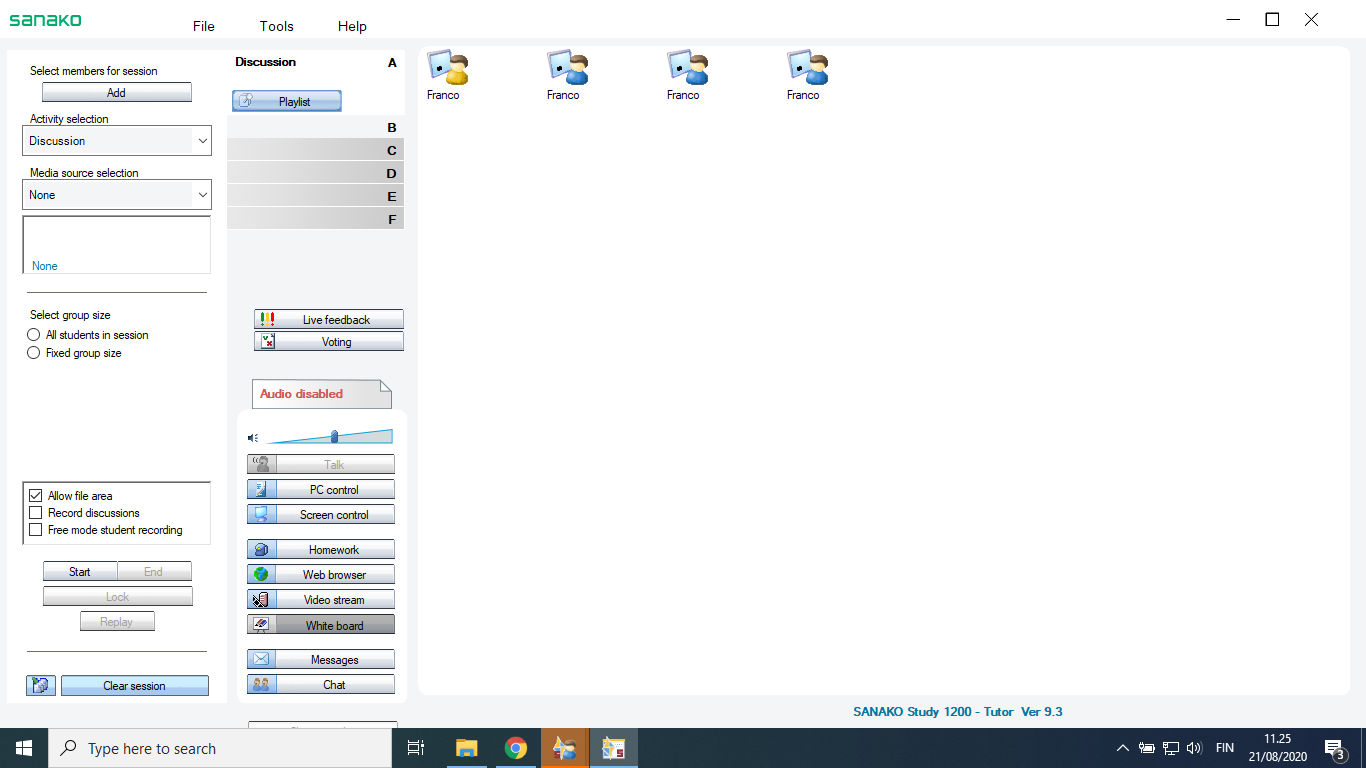 9 reasons to why you should consider Sanako Study language lab software
REASON 1 – Improve Listening Skills
Instead of playing sound out over speakers in a noisy classroom, allow your students to listen to high-quality audio and video in their headsets without distraction. You don't have to use the same material to the whole class which can be detrimental to the more advanced students as you tend to have to go at the pace of the slower learners. Give different students different content and even let them play it at their own pace if required.
REASON 2 – Improve Speaking Skills
Many students are afraid to speak in front of the whole class! Sanako's digital language lab allows students to record their voices discretely and take risks. Besides, the teacher can add audio comments to the student recordings using Voice Insert to provide qualitative feedback on pronunciation, vocabulary, structure, etc.
Also, the students can host presentations to each other showing their computer screen which might be just enough to help them to get comfortable with presentations.
REASON 3 – Allow Students to Develop Their Language Skills
All language students have to learn vocabulary, listen and learn key phrases and prepare answers to oral questions as a minimum. However, those learners that can take this basic knowledge and develop it within varying contexts and role plays will achieve higher grades.
By allowing your students to perform paired or group-based activities you will provide them with the opportunity to develop their skills with their peers in a realistic context which they will probably face later in their life, such as a job interview.
REASON 4 – Increase the Number of Students Taking Languages
Sanako Study language teaching software will attract more students to language programs. Today's generation of IT literate students appreciates technology when it supports their learning. Lessons are more fun, interactive and productive. Using effective software for language teaching tends to increase students' motivation.
REASON 5 – Improve Examination Results
Use language lab software to improve both listening and speaking skills via the following methods; drill type exercises, teacher-led listening activities, self-access listening, listen and repeat, translation exercises, stimulus, and answer techniques, role-play, group discussions, and round table discussions.
Today's learners value these methods. In particular, the effect on oral assessment has been proven to be significant in preparing students and getting improved results.
*Read more about how Sanako's language labs solutions improve language skills assessment from this blog post.
REASON 6 – Save Time and Money
The built-in language learning activities in Sanako's language teaching software allow you to conduct speaking tests and exam preparation for the whole class at the same time where it before required a significant amount of one-to-one sessions.
You can also conduct exams in the Sanako Study environment with high-class audio and all Web access and interference blocked – no need for separate audio playback systems for the main exam hall. Plus, all the student recordings can be collected, saved and sent to an examination board in seconds at the end of the exam in MP3 format.
REASON 7 – Add to What You Already Have in a Flexible Manner
Sanako Study does not replace what you already have as it is designed to bring the best out of your existing resources such as your own online teaching content, Microsoft Office documents, etc. Sanako's language lab software runs on a standard Windows operating system and will support all the standard file formats, applications, and Web pages.
REASON 8 – Move from Passive Learning to Active Learning
It is a proven fact that students learn most effectively when they are activated. With language lab software, you can activate the students by performing stimulating activities such as group discussions, role plays, mock interviews, translation exercises, voting games, text chat exercises, etc. We have a generation of students who use interactive technology throughout their life with ease and familiarity.
REASON 9 – Increase the time each student spends speaking and practicing
Digital language lab can increase the time each student spends speaking. In a normal classroom without any dedicated language teaching software each student has only 1-2 minutes per class reserved to speaking practice but with Sanako Study language lab software they can all speak simultaneously without distracting each other.
You can read more about the benefits of language labs from our another blog post: "how effective language labs are in language teaching".
What do language teachers say about Sanako Study language lab software?
"Students are able to learn more and teachers can do more with the students. Study 1200 helps teachers to manage language classes more effectively, and students' results have improved by 30 %, for example, individual results may have improved by an entire grade."
-State High school Geschwister Scholl, Saalfeld, Germany
"In our school we have 10 language teachers who are using Sanako Study 1200 on a weekly basis. We are very pleased both with the broad functionality, the performance and stability and the quality of support when needed."
-Jan Karstensen, Nord-Østerdal videregående skole, Norway (Read the full customer story here!)
"With Sanako Study, we can observe each students' station: we can observe what they're doing on their screens and we can listen in on what students are saying. I'm able to have a class come in here every 30 minutes. Then proctor an exam and have another class come in the next 30 minutes. So it's really user-friendly."
-Christopher Vasquez-Wright, Texas Tech University, USA (Read the full customer story here!)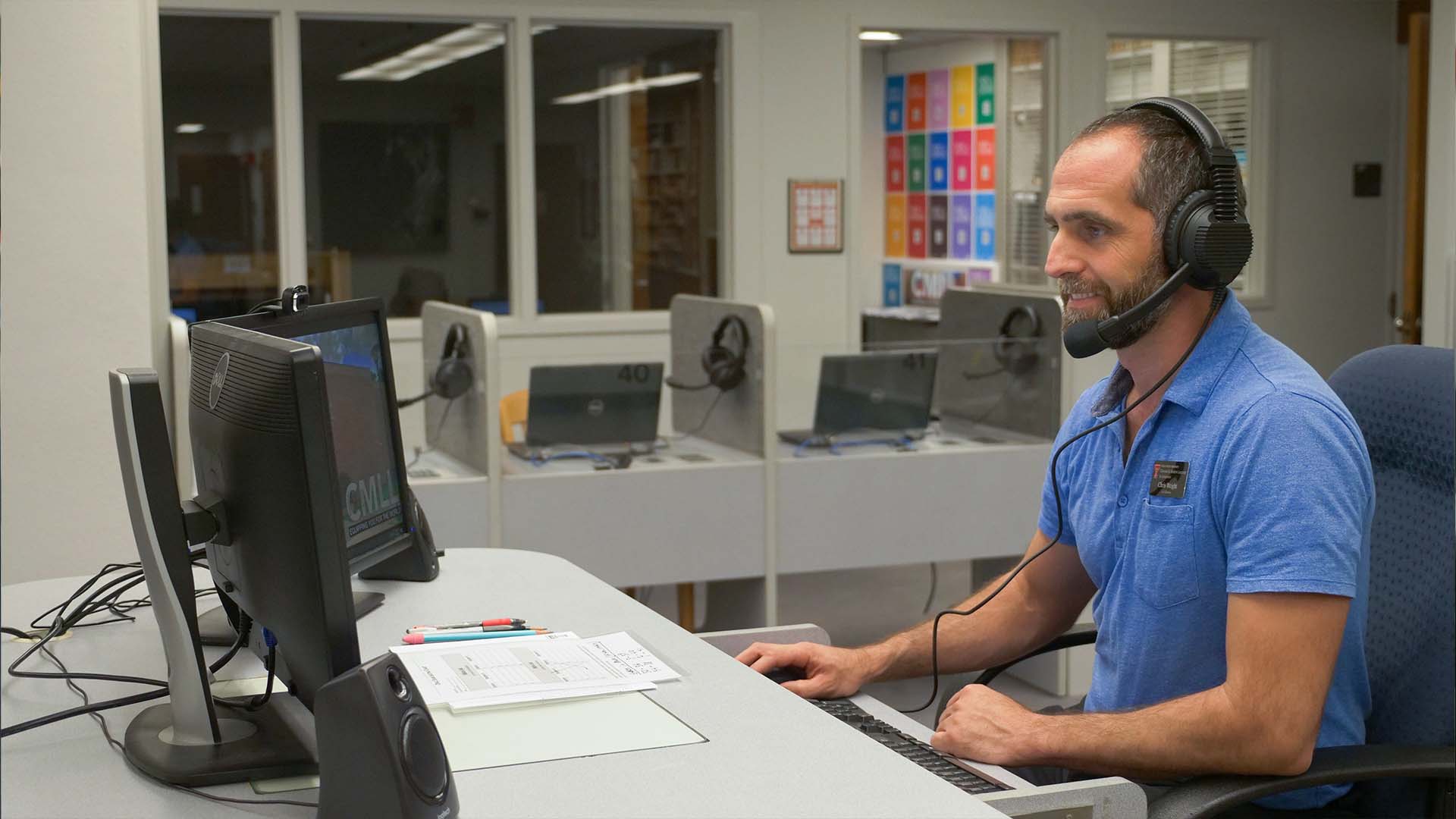 Are you considering to purchase Sanako Study language lab software for your school? Book FREE demo to see Sanako Study in action!
Book free demo