At its heart, Sanako builds reliable tools that enable language teachers to better support language students. As such, our business has to be able to deploy products and services whenever, wherever and however language teachers might need us. During Covid-pandemic, for reasons of public safety, we have seen a significant increase in remote teaching and learning. Yet, this move online has merely accelerated an ongoing educational transformation. So, how will Sanako ensure that language educators and their students get the most out of their learning tools and services whilst accessing them remotely?
Teach remotely or in the classroom using Sanako's language teaching solutions
Firstly, Sanako will continue to focus on developing products that students and teachers really want. Historically, this has principally been focused on classroom-based, language lab solutions such as Sanako Lab 100 and Sanako Study 1200. These products continue to be hugely popular with customers but we are now seeing a clear and significant shift to online teaching and learning resources, which will be Sanako's priority moving forwards.
The success of Sanako's Connect (our browser-based virtual language classroom software) proposition to date has, for example, been driven by careful consideration of users' and customers' needs. As a result, Connect supports teachers by being easy to use and by operating seamlessly in class and remote locations. It also facilitates the delivery of highly targeted, personalised and differentiated learning, all through a simple browser-based interface.
Sanako Connect: Students can be divided to pairs or groups for live audio communication. Teachers can create and launch language learning activities, speak to the class, groups or individuals and even share their webcam and screen in the same platform.
Even when teaching remotely, teachers can always rely on Sanako's solutions to maximise the time students spend listening to and speaking their chosen language. The Voice Insert feature on Sanako Connect, for example, allows students to answer pre-recorded questions at their own pace as well as allowing time for independent role play practice. Sanako Connect's voice insert feature and advanced two-track recorder are unique features tailored for professional language teachers and language learning. With the two-track recorder students can insert their answers effortlessly as the system automatically creates pauses/gaps into the original master track to insert students' responses.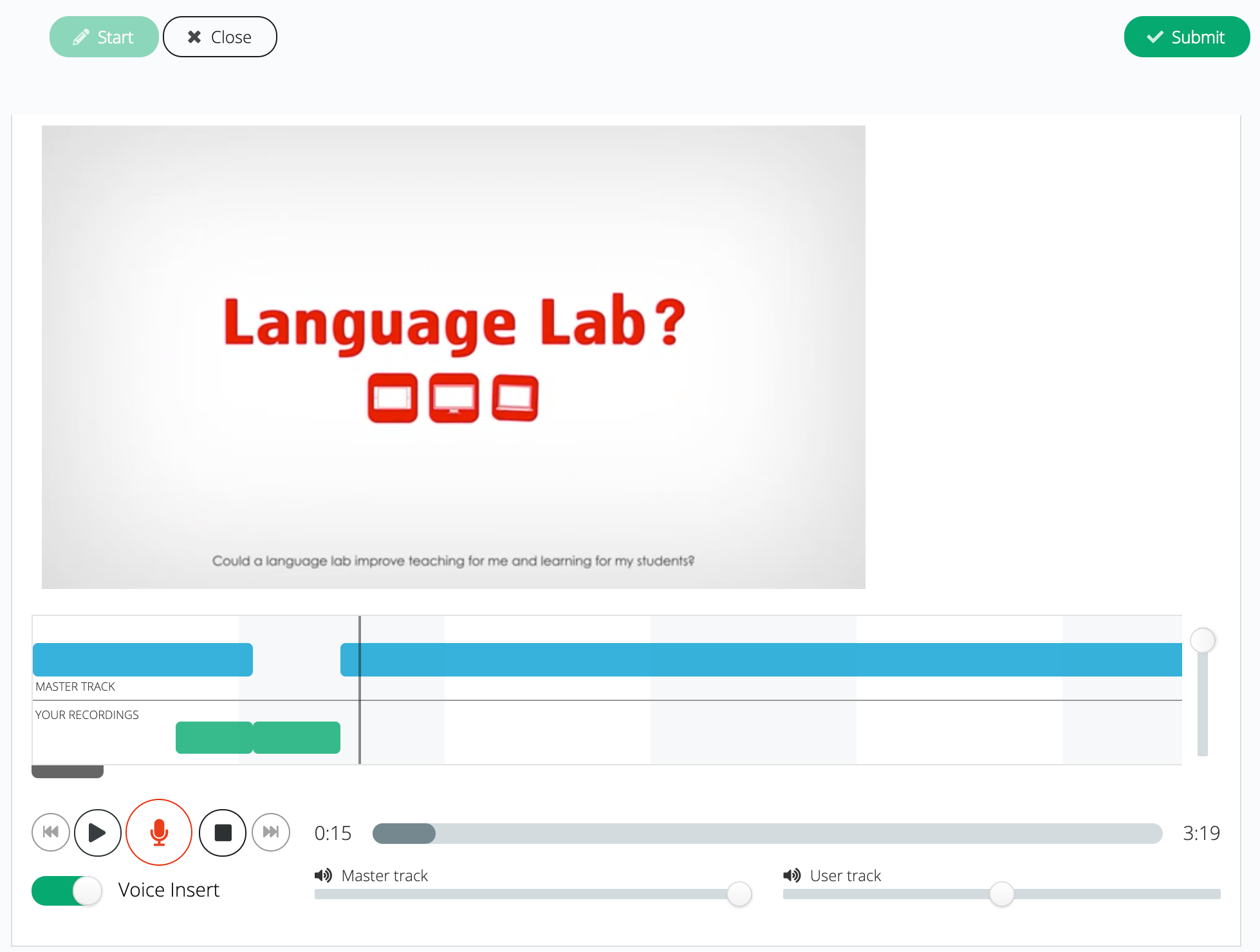 Sanako Connect solution also enables teachers to easily establish ability groups so that students can access exercises appropriate to their skills in order to build their knowledge and confidence. Students can work individually or in pairs online to practice live conversations and other role play activities. They are easily able to collect and review students' audio recordings and provide feedback for work in real-time or via voice recording.
This feedback system is another example of how Sanako supports teachers to deliver online education. Indeed, Sanako Connect also allows educators to use live monitors and intercoms to communicate with students to support them as required and monitor progress.
Supporting teachers to be comfortable with educational technology
Finally, Sanako recognises that not all language educators are completely confident in using online delivery mechanisms. We are therefore committed to supporting teachers to improve their skills and professional practice through a programme of continuous professional development. Sanako has already run a series of webinars for all language teachers to learn more about our products and services to better equip them for online language teaching delivery. Teachers and schools can also access detailed product information highlighting key performance specifications through the company help site as well as finding a wide variety of inspiring international school case studies on our blog. We also provide lot of useful guidance videos for language teachers in our youtube channel.
If you'd like to learn more how Sanako can support language teachers to deliver remote, online learning, contact us now and arrange your free demo!
Book free demo